October 3, 2012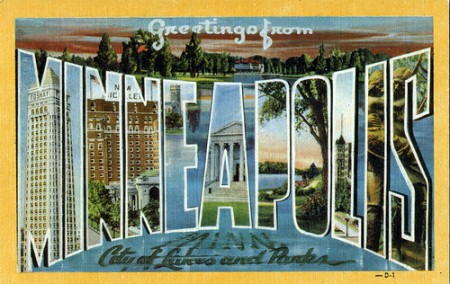 Maybe everybody else who wasn't raised in far coast oblivion already knows this but: HEY YOU GUYS. MINNEAPOLIS HAS A LOT OF REALLY GREAT MUSIC. Tomorrow afternoon when I board a plane to Minneapolis, I'll be streaming the sounds of the Twin Cities in through my earbuds, and enjoying myself immensely. Minneapolis is a city that I've tremendously liked on the handful of occasions that work has taken me to its shores in the last few years. In addition to a vibrant arts scene, I've always stayed in places right along the Mississippi River, borrowing bikes from the citywide program and exploring across the Stone Arch Bridge, seeing shows at notable venues like First Avenue.
On a run the other afternoon I started thinking about Minneapolis music after listening to The Hold Steady, and then that spiraled out of control and, well, here we are. There are other folks who are more informed on the music of the Twin Cities than I am, and this is not supposed to be any sort of definitive mix of Minneapolis bands, and I have indeed left off some major players, but this is the way I will be soundtracking my visit. All of these bands and musicians have some connection with the Twin Cities, either living and making music there now, formed the band there, wrote music there, or just love it enough to sing about it.
I've done this same thing with New York and San Francisco on a city level, and Utah and the wide-wide ocean on a grander scale, and there is a deeply geeky pleasure in this. I should note that I am indebted to a reader named Jim in the Twin Cities, whose five-page long list and commentary about the Twin Cities scene that I dug out of my gmail helped guide me to a few of these artists.
Let's move to Minneapolis.

THESE TWIN CITY KISSES :: MINNEAPOLIS MIXTAPE
Stuck Between Stations – The Hold Steady
My first time in Minneapolis last year, I had just discovered this terrific map my friend Kyle made of Twin Cities locations referenced in Hold Steady songs, and I got frissons of delight every time I did something like walking over the Washington Bridge and talking to the river. Any mix I make about Minneapolis starts with this band.
Mpls – Grandpaboy
Paul Westerberg is second on my list (and on this mix, and in my heart) of great musical things to come out of Minneapolis, whether with The Replacements, or solo under his own name, or as Grandpaboy. This song is just a jubilant celebration of the city, with all the geographical references laced throughout from the first lines. M-P-L-S.
Your Favorite Thing – Sugar
I can't tell through googling (BECAUSE YOU TRY TO GOOGLE "SUGAR") if Bob Mould (of the tres-famous and tres-influential Minneapolis band Hüsker Dü) and his '90s band Sugar ever counted as "A Minneapolis Band" but Bob Mould sure is as a human, so this band counts in my book. I first heard this song late, I think in reading Love Is A Mix Tape and making the corresponding playlist. Since then I've worn it out.
Singing In My Sleep – Semisonic
Ahhh, Semisonic. For the record, I have never liked the song "Closing Time." And I have ALWAYS liked this song, about making a mixtape and "falling in love too fast with you or the songs you chose," since the very first time I heard it (on a mixtape someone made for me!). It makes me feel like I am seventeen forever. I love that Semisonic is from Minneapolis so that I can find more reasons to play it.
Settling It Off – Peter Wolf Crier
Switching gears to a currently-creating Minneapolis musician, Peter Wolf Crier is putting out taut songs like these on the Jagjaguwar label, and when I saw him this spring opening for Damien Jurado, I was completely blown away by all the dense layers here. It feels like a struggle, like one of those dreams that you fight to untangle yourself from all night long, but keeps looping and pressing into your head with images of birds and old family home movies and the gravitational pull of the shoreline.
Shooting Star (Bad Company) – Golden Smog
Golden Smog is sort of an uber-group of Twin Cities musical royalty, made up of members of other bands on this same mix – Jayhawks, Soul Asylum, The Replacements. Here they are having some fun covering the 1975 Bad Company song which they'd contribute to the Clerks soundtrack.
Columns – Portage
I featured Portage on my "Nothing Gold Can Stay" Autumn 2011 mix, and am pretty thrilled to find that not only are they continuing to make elegant music in the Twin Cities, they are playing a house show Thursday night right after my flight lands. I'll let you know how it is.
Badaboom – Tapes 'n Tapes
This band's clattery, danceable sound put Minneapolis back in the indie spotlight in the last few years, and their songs sound fresh to these ears. The band was formed at Carleton College, which goes to show that your mother was right when she insisted on a solid liberal arts education for you.
Misery – Soul Asylum
A few years back, a friend of mine made me a mix and we listened to it together blind, with no song intros or tracklist, the first time through. I was surprised after I heard the opening countoff how the whole song came flooding back for those opening notes. Say what you will about how well this band has held up, but I still think this song feels good (Frustraaaaated! Incorporated!)
Organ Donor – Jeremy Messersmith
A fresh-faced, bespectacled kid with a rabid musical following, lots of you guys have written to me over the last couple of years encouraging me to check out Messersmith's beguiling pop, and more recently, to have him in for a house show, which he pairs with potlucks and participates in widely. I should probably listen to you.
Positively 4th Street – Bob Dylan
You could argue with me that this song is about the 4th Street in NYC's Greenwich Village, but Dylan also lived above a drugstore on 4th Street in the Dinkytown neighborhood of Minneapolis (I've been there!), so let's just say it is a metaphor for both, and it celebrates the fact that Minneapolis is where Robert Zimmerman became Bob Dylan.
Haywire – Jayhawks
I just love this song SO DAMN MUCH. Thanks to something my friend J. Tom Hnatow once wrote, this song always reminds me of sunsets and old regrets and nascent joy. Another redolent, country-inflected song I never would have pegged as coming from Minneapolis.
The Turf Club – Ben Kyle
I'm going to the Turf Club Friday night, to see The Features (not from MPLS), and was thrilled to find a soundtrack for my jaunt on the terrific new album from Ben Kyle. Frontman of Romantica, Ben is a Minneapolis musician by way of Belfast, and I first heard his music when his lilt blended with Ryan Adams in a live recording of his song "The Dark." So much melancholy goodness on this song; I can see the city lights reflecting off the river.
Drinking Again – Haley Bonar
Gahhh I love the indulgent, slowly-intoxicating sadness of this song, with those round red-wine chords throughout just vibrating with what it feels like to get drunk alone ("and it don't help that much / but I don't care"). Haley Bonar is one of my favorite women making music in the Twin Cities.
Drown – Son Volt
The third in the Twin-Cities trifecta of alt-country awesomeness (along with Jayhawks and Golden Smog), this blistering song could be played regularly throughout Minneapolis' drawn-out winters to bring a little heat.
When Water Comes To Life – Cloud Cult
This band has been making complex and lovely music out of Minneapolis for over ten years. Their ephemeral string-laced anthems lend themselves extremely well to their live show where they have painters on-stage and they combine two distinct artistic disciplines into one color-streaked supernova. I saw it once, and it was just so very cool.
When It Sinks In – Farewell Milwaukee
Sheesh, listen to the harmonies on this one. I saw a video of them doing this acoustic on Jones Street in NYC's West Village (freeewheelin!) and fell for it effortlessly. Please note: the Milwaukee thing is just a front.
Be Bad For Me – Paul Westerberg
Another favorite little Westerberg track, because you can never have too much of him.
Starfish and Coffee – Prince
Any Minneapolis mix, especially one that talks about visiting First Avenue in the intro, is contractually obligated to include a Prince song. I feel like everyone that comes to town or plays at First Ave is thinking of him when they do: as one of my friends in The Head and the Heart tweeted last week when they were in town, "Really hope Prince shows up to solo over Rivers and Roads."
Don't Call Them Twinkies – The Baseball Project (feat. Craig Finn)
J'adore baseball, and Craig Finn (of the Hold Steady), and this song which references a million things about the Twin Cities, and which I first heard on a car stereo while in Minneapolis for the first time. It's just all around perfect (although, hey: sorry about those Twins this year).

M-P-L-S.
ZIP: THESE TWIN CITY KISSES :: MINNEAPOLIS MIXTAPE

OMG! Edits are messy but I HAVE TO DO THIS BECAUSE I FORGOT MASON JENNINGS. And I love Mason Jennings so much, and this is a travesty. And then two other additions: a friend sent me this charming addition by That Dog about the city, and I totally meant to include Caroline Smith & The Goodnight Sleeps and forgot. So you can figure out where all three of these songs go on the mix. They're not in the zip file above:
Sorry Signs On Cash Machines – Mason Jennings
Minneapolis – That Dog
Eagle's Nest – Caroline Smith & The Goodnight Sleeps

29 comments
29 Comments
Sorry, the comment form is closed at this time.