December 9, 2011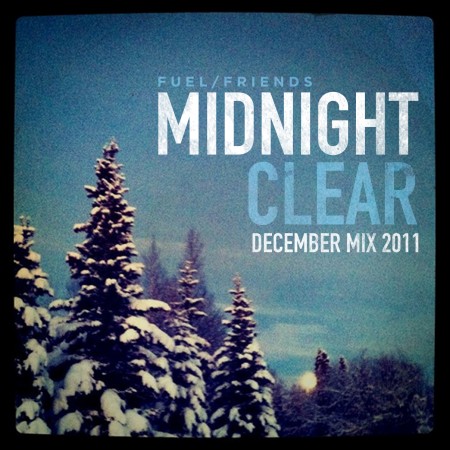 Pine trees and icicles and carolers — check. But can we please just talk for a moment about how it was -2 degrees the other night in Colorado? TWO BELOW, with howling winds. I like the beer, but man alive that makes for some cold sleeping.
All the golden loveliness of autumn is gone, and in its place we have this icy, silent cocoon all around us, luminescent and silvery-blue. Perhaps I just have to survive these next two weeks of school, and maybe go on a little cookie-baking binge, and then the season will feel like it is here. We are celebrating a very spartan (Little House On The Prairie-style) Christmas this year (everyone gets an orange, maybe a button). I am hoping that on the bright side it will make me remember, as Charlie Brown says, what Christmas is really all about.
I'm pleased to collate twenty-five songs for you, for late nights in December. Assembled together the last few evenings over generous glasses of BotaBox red wine and a happy heart (because really, what is more fun than making a seasonal mix?) — Merry Christmas and happy wintering to you all. I am thankful for you, and glad you read what I have to share; this is absolutely my utter favorite of these holiday mixes so far.
Now go get me the electric blanket; it's on the couch.

FUEL/FRIENDS' MIDNIGHT-CLEAR DECEMBER MIX 2011
Merry Xmas Anyways – Typhoon (A PDXmas comp)
Just Like Christmas (Low) – David Bazan
Oh Come All Ye Faithful – The Lower Lights (so good)
Snow Is Falling – Darker My Love
Christmas Must Be Tonight (The Band) – Bahamas (Vol. 2)
Remember When It Snowed – Rosie Thomas (new song!)
O Holy Night – Quiet Company (from their free Holiday EP)
The Christmas Waltz – She & Him
When The Bells Start Ringing – My Morning Jacket (new EP)
The Ice and Snow Haunt Me Still – Brown Bird (via)
I Saw Three Ships – Megafaun (from Hometapes)
The Song The Season Brings – Beta Radio (love this)
Christmas Eve For Two – Summer Fiction
It's Christmas Time – Matthew Ryan (via)
Go Tell It On The Mountain (feat. Mark Apel) – Seryn (via)
Hey Parker, It's Christmas – Ryan Adams (old song, overdue)
The Blizzard – Camera Obscura
I'll Be Home For Christmas – Travel By Sea
Christmas Time Is Here (Vince Guaraldi) – Dawes
New Year's Eve – Haunting Party (free xmas tape)
It's Christmas. Go on and say hello – Roman Candle (via)
When The Thames Froze – Smith & Burrows
Have Yourself A Merry Little Christmas – Chris Martin
Snowed In Seattle – Josiah Johnson (of The Head and The Heart, wonderfully long ago)
Silent Night – Sufjan Stevens (with Bryce and Aaron Dessner of The National, and Richard Parry of Arcade Fire)

ZIP: FUEL/FRIENDS' MIDNIGHT-CLEAR DECEMBER MIX 2011
Hey! The last four years of mixes are still online too. I take my holly-jollying seriously.

[album art, as always, by the marvelous Ryan Hollingsworth, who has a chilly-evocative wonderful winter mix of his own up here]

16 comments
16 Comments
Sorry, the comment form is closed at this time.