October 29, 2009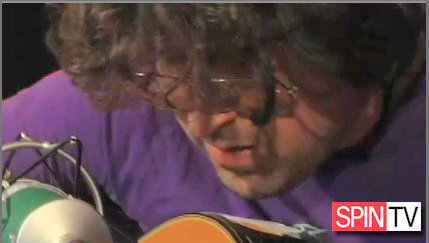 Whereas the original song (by British electropop duo La Roux) is all sheen and hard candy shellac, Lou Barlow's interpretation of it is almost haunting. For me when I hear the original, it feels like sparkly nights out dancing, and the lines that stand out are the ones about "been there, done that, messed around, I'm having fun, don't put me down." She's bulletproof the way a cartoon superhero is; she doesn't bleed real blood.
But here Lou takes it and turns it inside out, makes it echo with all the empty space. When he vows, "this time baby, this time I'll be…bulletproof," I find that I don't believe him, any more than I ever believe we can completely seal off our hearts as hermetically as we'd sometimes like.
Bulletproof (La Roux cover) – Lou Barlow

Watch the three-song video set from SPIN; Barlow has a new album out this month on Merge called Goodnight Unknown.

And speaking of all things Barlow: you Denverites can win tix for Dinosaur Jr's upcoming stop Thursday night via the classy people at Donnybrook Writing Academy (they who can be eternally thanked also for this piece on Stupid Band Names).