March 11, 2013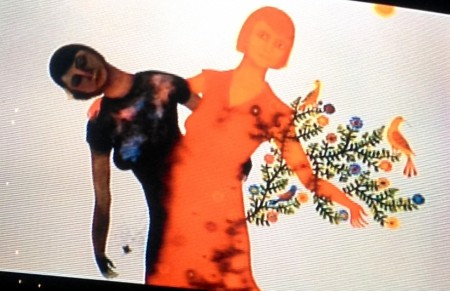 I sat in my dark living room, watching Take This Waltz flicker on the screen for the second time in as many days, and I kept alternately thinking of people that I wanted to recommend the film to, and simultaneously chastising myself for wishing such piercing torture on anyone. I know that doesn't sound like an endorsement. Take This Waltz is easily one of the best, and hardest, movies I've seen in years.
I'm fascinated by the concept of liminality, liminal spaces, and liminal relationships in our lives. I love movies (like Lost in Translation, or Before Sunrise) that plumb the complicated depths of those spaces in our lives which are neither one thing nor the other. I feel like maybe the final frontier of maturity is getting more-okay with just sitting with the unknown, and being content in the shifting. At least maybe it just is for me.
Take This Waltz is from whipsmart director Sarah Polley, who is about the same age as I am, with wisdom and insight that wows me. One of the most telling lines in the movie is at the beginning when Michelle Williams' character tells a handsome stranger on a plane, "I'm afraid of connections," referring to her time in airports, "…wondering if I am going to make it. I don't like being in-between things. I'm afraid of being afraid." "That sounds like the most dangerous thing in the world," the handsome stranger replies, and then –of course– the rest of the movie is spent smashing apart that fear.
Another line that floored me comes towards the end, and stuck with me like a burr under the skin. It's spoken by Sarah Silverman's recovering-alcoholic character: "Life has a gap in it. It just does. You don't go crazy trying to fill it like some kind of lunatic." Huh.

So….all that relevant rambling to lead us to this song that the movie teases us with, one that perfectly soundtracks a pivotal scene at a sexy, boozy, humid summer house party, all warmly lit by Chinese lanterns. There's no official version released, so this is a pieced-together (but eminently listenable) mp3 made by some enterprising blogger, no doubt. SO. TERRIFIC.
Closing Time (Leonard Cohen) – Feist
(the Leonard Cohen original from 1992)

Director Sarah Polley tells the story in an interview of how she tried and tried to get Feist to record this song for the soundtrack, but was not having any luck by the time filming commenced in Toronto. "We were shooting on a street in Little Portugal at two in the morning, this tiny little street, and these two people ride by on a bike, and I hear 'Sarah!' And I turn around and it's Leslie Feist and Howie Beck, and they were on their way to play glow-in-the-dark Frisbee at Trinity Bellwoods park. And I was like, 'Hi! Do you want to cover Closing Time, like, in the next two days?' And she was like, 'Sure!'"
And there we have it.

The final thought on all this stuff that stuck with me after viewing the movie was uncovered in the bonus commentary with Polley. "We live in a culture where we feel like if there's something missing that means there's something wrong." She goes on to reflect, "Happily ever after contains all kinds of messes, but nothing in life fully prepares us for that." The soundtrack throughout this movie is marvelous, and the film is messy, and so worth a careful viewing. Or two.