May 31, 2009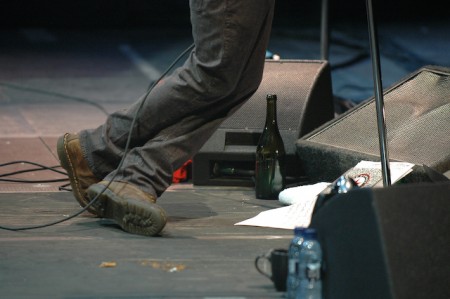 I've reached my limit, and I'm breaking up with Pearl Jam.
Their New York City lawyers contacted me today, telling me to remove the fan-recorded file of a new song below, which was captured outside the venue door at a recent secret show. This is the third time during the lifespan of this blog that I have been contacted by Pearl Jam or their representatives to remove something from my site that they feel is objectionable — always a live fan recording of something we're all stoked to hear, and always a post that has come from a place of earnest and enthusiastic fandom. Well, I'm tired of fandom.
Even more disturbing than the crackdown on the live recordings that Pearl Jam has long embraced is the fact that, according to multiple sources, the internet is being vigorously scoured of all forms of even TALK about this new song and the recording session that happened on Thursday. This post vanished, leaving only the Google cache to remember it. This girl deleted hers. Threads on the message board are vaporized. And holy mackerel, I just went to reference the Rolling Stone post and the entire thing from this morning has vanished. 404 error. File not found.
This type of suppression of information seems to be their chosen mode of operating as a band over the last few years, and it is leaving me with a bitter taste in my mouth. I'm not sure what has changed with them. I can't defend them anymore. I also must say that as one of the few voices in the independent blogosphere that even seems to care about what Pearl Jam is doing with any urgency, their kindness and support for genuine fandom would be most consistent with what I always understood their punk-inspired ethos to be.
The new song is out there, the horse is through the gate, Elvis has left the building — and in 2009 it is futile to undo it. Seize the buzz, Pearl Jam. Acknowledge the fans that have stuck with you for over fifteen years. In ten hours everyone's gonna have heard the new song on Conan anyways, if you perform it. The only people interested in the fan recording are the passionate uberfans who will follow everything you do anyways. I would stoke those fires if I were you, not run around trying to smother to death everyone who dares talk about it. So few of my generation care passionately about what you are doing these days, and think that you are relevant and potent.
I'm saddened to say it ain't gonna be me anymore.
[UPDATE]

Pearl Jam took to the stage Thursday at Seattle's famed Showbox to rock a brand new song, while Cameron Crowe (Cameron Crowe!) filmed it. Stealth audio from one of the extras sounds like this:
Something's Going On – Pearl Jam
(we're guessing on the title — could also be "The Fixer")

Soaring, melodic, tightly-wound, and fiercely rocking — color me pleased. Read more details here. Now maybe we know what they will play tomorrow night on the Conan Tonight Show premiere!