August 30, 2012
I wondered on this blog in 2010 if America was ready for the Italian world-music superstar Jovanotti, whose songs I love and believe in, as he readied a musical invasion on these shores across the Atlantic (after two decades of collaborating in Europe with everyone from his pal Bono to Ben Harper, Sergio Mendes, Michael Franti, and The Beastie Boys).
Later that summer, I shared my massively radiant delight at getting to interview him on a pier in Santa Monica about music, creativity, social justice, and the importance of rhythm. I've argued vociferously that his music can enrich and expand your aural life, even if you don't parlo a lick of italiano. The way his voice flows over the consonants and vowels is hypnotic — at times blissful like a sedative, at times ennervating like a tumble in a rock polisher where everything gets smooth and brilliant.
Now Jovanotti has gone and visited Seattle's KEXP (!) to record his first ever U.S. radio performance – a completely delightful session that I hope will convert legions of you guys to his music. After a jaunt down the West Coast this month (including a stop at Amoeba Music), he is on tour across the U.S. for the first time in October, playing all sorts of wonderful venues that you know and love. I guarantee you (as in, I will reimburse you the cost of your concert ticket) that if you take a chance with him, it will be one of the most mind-bendingly exuberant concerts you have ever seen. The KEXP session feels more like the sedative we talked about (a happy sedative), while his full show is a spettacolo of rhythm and color.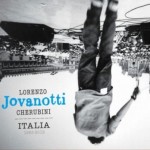 Jovanotti just released his first album of music specifically for an American audience, the Italia 1988-2012 collection, on the venerable ATO Records imprint (My Morning Jacket, Alabama Shakes, Hey Rosetta!, Allen Stone, and Two Gallants, among others). The tracks are hand-picked for us and our American tastes –whatever that means– from Jovanotti's long and varied career, and forego some of his massive European hits (that are as fun as hell to sing along to, or to watch Italians sing along to) in favor of a whole different feel.
As KEXP host Darek Mazzone says to Jovanotti at the end of the session: "you're gonna blow up, your lives are gonna be different — you're gonna make it in America." The KEXP write-up speculates that Jovanotti is on the brink of success in the U.S., after playing Bonnaroo (and Outside Lands, and Austin City Limits Festival come October). KEXP's Ian Robinson writes:
"[This was] one of the most interesting interviews ever conducted in our studio not only because of his thick accent (the way he says "giraffe" is worth it alone) but also because the truly beautiful and inspiring things he has to say about what music truly means to an individual and what that means for the world.
Also I'm pretty sure he's wearing Air Yeezy 2s."

JOVANOTTI U.S. TOUR
(AKA THE "HEATHER PROMISES YOU" TOUR)
October 1 – Washington, DC – 9:30 Club
October 2 – Philadelphia, PA – Trocadero
October 5 – Boston, MA – Royale
October 6 – New York, NY – Terminal 5
October 8 – Atlanta, GA – Variety Playhouse
October 9 – Orlando, FL – House of Blues
October 10 – Miami, FL – The Fillmore Miami Beach
October 12 – Austin, TX – ACL Music Festival
October 14 – Denver, CO – Bluebird Theater
October 15 – Minneapolis, MN – First Avenue
October 17 – Chicago, IL – The Vic Theatre
October 18 – Detroit, MI – Saint Andrew's Hall