July 2, 2009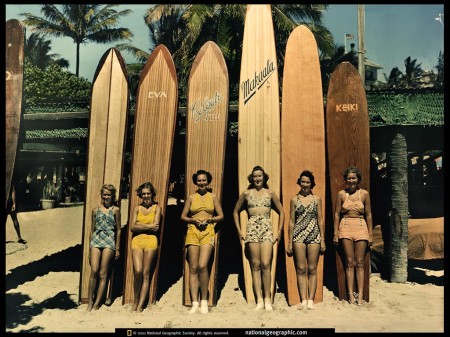 Before you head off on the long 4th of July weekend of merriment and BBQs (mostly for my US readers, but heck, it's a good idea wherever you live), I have finally completed my annual summer mix for 2009: "Late Nights and Longboards"! I don't surf, I just pretend I'm one of those girls in the picture up there – with the especially foxy swimsuits.
These are twenty tunes that will be soundtracking my summer, the porch swings and lemonade (okay, Fat Tire), the volleyball and sunburns, the roadtrips with the windows down because my air conditioner is broken. Maybe even the mosquito bites and seemingly inevitable summer broken hearts.

LATE NIGHTS AND LONGBOARDS
Fuel/Friends Summer 2009 Mix
Storia Di Un Corazon – Jovanotti & Jarabe de Palo
Spanish and Italian and salsa dancing and sweat. Move your hips.
Song Away – Hockey
I'm still addicted, and this still sounds fantastic driving fast.
Kissing Like It's Love – The Voyces
Marvelous marvelous! "You smell like every summer should, my favorite time of year, like Coppertone and firewood — how am I supposed to steer?"
I Was A Fool – Roman Candle
I can feel the summer twilight heat emanating off this slow charmer. "Out in the evening past the bridge and below, frogs and cicadas left and right growling low… "
Folding Chair – Regina Spektor
Feet buried in the sand, and the sea is just a wetter version of the skies.
We're All Stuck Out In The Desert – Johnathan Rice
Miami vacations, desert journeys, salt and sand in this (damn catchy) tune from Jenny Lewis's boyfriend.
How Can I Love You If You Won't Lie Down? – Silver Jews
All shiny and chimey with a faint banjo, electric guitar, and lyrics like "fast cars, fine ass, these things will pass and it won't get more profound." No, no it won't.
Bowl of Oranges – Bright Eyes
Citrus seems summery, but really this is just my personal anthem of the summer and a favorite Bright Eyes song. What we're all looking for.
Harold T Wilkins – Fanfarlo
Wow, this song still explodes into a billion technicolor sparks every time I hear it.
Sleep All Summer – Crooked Fingers
The original is different than that fabulous cover floating around, but just as bittersweet once you get used to it.
California (All The Way) – Luna
I can see the sun glinting hard off the Los Angeles car windshields, blinding me, when I listen to the guitar melody here.
July 4, 2004 – Jason Anderson
It's not a summer mix 'til someone starts handclapping.
Fireworks – The Whitest Boy Alive
Half of the Kings of Convenience secured his place on this mix with the first second of this perfect song. Not lying.
My Radio (AM Mix) – Stars
"Hot sun on skin, that crimson dress too thin."
Where Do My Bluebird Fly – The Tallest Man On Earth
You know how endless quiet afternoons can pass in August, laying on your back looking at clouds? This is that song – "You're just a riddle in the sky…"
Wasted & Ready – Ben Kweller
Yes.
Sweet Summer Night on Hammer Hill – Jens Lekman
Even though Jens has the swine flu, I still hope he can find a day like this one this summer, all flirty brass and shout-out-loud clapping down on the corner.
The Village Green Preservation Society – The Kinks
Personally, my summers always require the Kinks to be present and contributing.
Play Until The Streetlights Come On – Rabbit Is A Sphere
From their new free EP, this interlude makes me think of running home barefoot on warm asphalt.
We'll See The Sun – Houses
This song has two sublime moments in it that make my insides expand – when the drums come in at the two-minute-mark, and when the Wurlitzer explodes like fireworks at 3:27. Give it time to build and you'll be rewarded. We will see the sun.

ZIP: LATE NIGHTS AND LONGBOARDS


It all fits on one CD. Let's go!

20 comments
20 Comments »
Leave a comment