November 21, 2012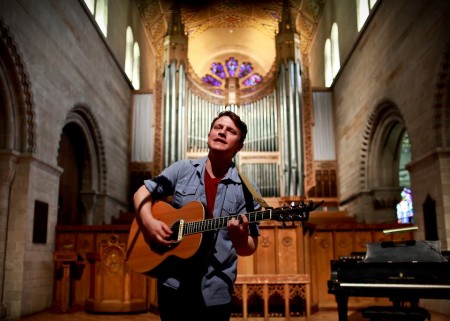 There is something colorful and dizzying in the orchestral swoops of Hey Marseilles' music. Bookended on either side of the stage with two of the Anderson brothers on cello and viola (two of nine kids, apparently all musical – good job, Mr. and Mrs. Anderson) this Seattle band is fortified with a sparkling range of instruments. Matt Bishop soars at the front of this carnival with words of love and loss and the wide world that's out there waiting.
There's a lot of sonic wealth in these songs – especially when those strings dance across your ears. The music of Hey Marseilles is richly thoughtful and expansive. On this collection of songs, they seem to be wrestling with a grownup love and all the commitments that entails; this is one to sit with for a while.
Watch out for their new album coming in March 2013.

HEY MARSEILLES – FUEL/FRIENDS CHAPEL SESSION #19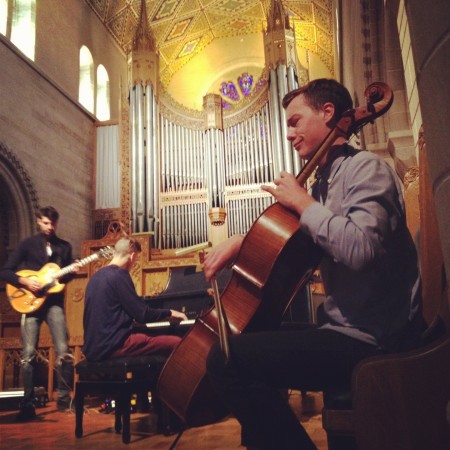 Elegy
There's a mischievous gleam in this new song, much more than you'd expect from something called "Elegy." I do not waltz (or two-step, or anything so formal), but I believe this is the song I would like to waltz to if I did. My favorite part of this song comes at the end where everything cuts out but the two Anderson brothers weaving their cello and viola together – it made me draw in my breath and hold it until the measures died away. So good.
Hold Your Head
If the last song was a waltz, this one makes me practically see ballerinas bouncing spry and quick on their toes. It also reminds me of rain, the springtime kind.
True Love Will Find You In The End (Daniel Johnston)
There is something so open-hearted and earnest in this song, sung as matter-of-fact truth set to music by the reticent Daniel Johnston. I don't have this kind of faith yet, but I am glad some folks out there do – and this version of the song is all dressed up stunningly.
Looking Back
This is a brand new song that doesn't seem to exist out there in recorded or video form, so I was especially delighted. On this, I hear chronicles of weariness and peace with past mistakes. "If you're looking back, that's all you'll ever see / when I find my way to you, I know I'll stay." This is a song about finding a nest, a haven, a home.
ZIP: HEY MARSEILLES CHAPEL SESSION

Also, hey: if you download this and like it, please enter your email address in the widget thing for the band, below where it says "Free Download." That way they can let you know when they are coming through your town — they are lovely, lovely guys and you should be in direct contact with them.

[visuals by Kevin Ihle, and videos for all the songs are on his YouTube page]