May 27, 2010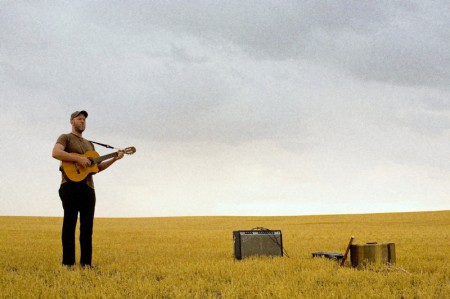 Formerly the frontman of '90s rock band Archers of Loaf, Eric Bachmann has been crafting music with his band Crooked Fingers for over a decade. He writes incisive, pitch-perfect songs (remember "Sleep All Summer" that The National and St. Vincent covered last year? It was one of my favorite finds of those warm months, and Nick Hornby's as well).

Sleep All Summer – Crooked Fingers
Sleep All Summer – The National & St. Vincent
[from the Merge SCORE! comp]

The first Reservoir Songs EP in 2002 had an old-time baptism depicted on the cover, and the gentle, warm arrangements of songs therein knocked me flat. I loved his version of Springsteen's "The River" — somehow he makes the original even more heartbreaking, the disillusionment of forgotten dreams gentle but thorough [listen here].
Bachmann is currently harnessing the power of the internets to kickstart funding support behind his next Reservoir Songs Vol. 2 EP (due out on July 6). There will be six new covers on the second incarnation, with a vinyl-only pressing on the tiny indie label Foreign Leisure. His songwriting fodder this time around is Merle Haggard, Moby Grape, Thin Lizzy, Billie Jo Shaver, The Kinks, and this late '60s easy rambler from John Hartford:
Gentle On My Mind (John Hartford) – Crooked Fingers

To pledge to this project through Kickstarter just means you commit ahead, buying ahead to show the financial backing for the endeavor. I think it might be the future of music for indie musicians. Bachmann's already raised more than the $5000 needed to initiate, but look – for just $15 now, you get a limited, numbered edition of the EP on vinyl with screenprinted cover art, and a download. What is raised now, in excess of the set goal, goes towards a new Crooked Fingers full-length album, after 2008′s Forfeit/Fortune, which is just fine by me.

5 comments
5 Comments
Sorry, the comment form is closed at this time.