February 17, 2009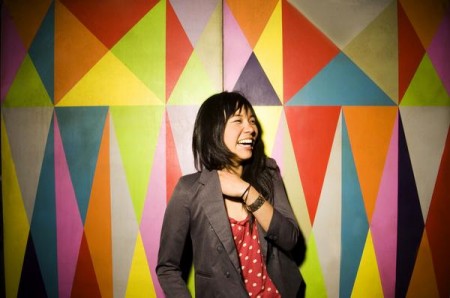 One of my absolute favorite albums lately (like, front to back, over and over, in the car, trying to keep it down for my co-workers, air drumming in my kitchen) is Thao Nguyen's We Brave Bee Stings And All (2008, Kill Rock Stars).
It's been a long time since I've found an artist that strikes as perfect a blend of fearless female honesty, introspectively clever lyrics, winsome melodies, and thoroughly interesting and unexpected percussion. I'm a sucker for the cool drumbeats, the ones that make me wanna clap my hands and tap along on my laptop (even as I try to write this post).
This might be my favorite song on the album, mostly because of the awesome way the drums edge their way into the room at 0:28, and then proceed to own the whole tune:
Fear & Convenience – Thao Nguyen

While Thao will be at SXSW (which I just registered for today) I also have good news! Thao's back on tour with her band, The Get Down Stay Down, and (and!) Samantha Crain (artist behind one of my favorite EPs last year).
Come el Seis de Mayo, I might die a tiny death of happiness.
THAO NGUYEN TOUR DATES
Feb 26 – Noise Pop – Swedish American Music Hall (solo) San Francisco, CA
Feb 27 – The Coffee House (solo) Davis, CA
Mar 18 – SXSW KRS Day Party-Club DeVille Austin, TX
Mar 19 – NPR Day Show -The Parish Austin, TX
Mar 19 – Hotel Café Showcase – The Parish Austin, TX
Mar 20 – KUT Showcase – Momo's Austin, TX
Apr 17 – Black Cat Washington DC
Apr 18 – Duke Coffee House Durham, NC #
Apr 19 – Village Tavern Mt. Pleasant, SC #
Apr 20 – EARL Atlanta, GA #
Apr 21 – Club Downunder-Florida State Tallahassee, FL #
Apr 23 – The Parish Austin, TX #
Apr 24 – Lola's Ft. Worth, TX #
Apr 25 – The Foundation Lubbock, TX #
Apr 26 – The Sub-College of Santa Fe Santa Fe, NM #
Apr 28 – The Loft-UCSD San Diego, CA #
Apr 29 – The Hotel Cafe Los Angeles, CA #
Apr 30 – Independent San Francisco, CA #
May 1 – Mississippi Studios Portland, OR #
May 2 – Chop Suey Seattle, WA #
May 4 – Neurolux Boise, ID #
May 5 – Kilby Court Salt Lake City, UT #
May 6 – Hi Dive Denver, CO #
May 9 – Empty Bottle Chicago, IL #
May 10 – Beachland Tavern Cleveland, OH #
May 12 – Iron Horse Northampton, MA #
May 14 – Bowery Ballroom New York, NY #
May 15 – First Unitarian Church Philadelphia, PA #
May 16 – The Boot Norfolk, VA #

# with Samantha Crain

PS – How do you say Thao's name, you ask?
[top image credit Sarah Cass]