August 11, 2009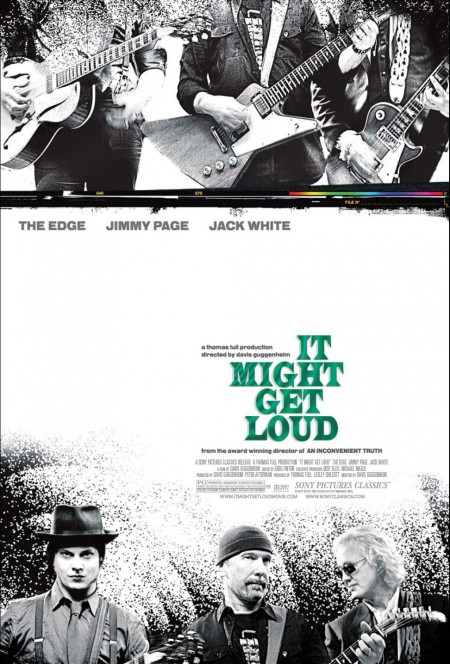 To get you all riled up and excited like I am for the opening of the new film It Might Get Loud (opening in coastal NY/LA theaters Friday), I have a sweet poster signed by director Davis Guggenheim to give away.
I got little goosebumps of excitement when I saw this trailer, and I might have even uttered a profanity (sorry Mom).
Blue Orchid – White Stripes
From the clips I've seen, this movie draws me in because all three guitar players (Jack White, The Edge and Jimmy Page) truly, humbly love music and feel called to express part of themselves through the guitar. I love watching what flits across their faces as they watch each other play — the hint of a kid-like smile at seeing their idols at work.
The movie also seems to delve into how it can be almost like another language, this guitar playing — one that I can understand the meaning of when heard in the street, but I failed grammar class and could never speak a lick of it myself. As White says, "We're all attempting to share something with another human being." The Communication major in me thought that angle was pretty cool, and I can't wait to hear more.
TO WIN THE POSTER: Leave me a comment saying which one of the three guitarists you are most interested to see and hear from and watch in this film, and why. I'll pick a winner on Friday! (and sorry but you must be a U.S. resident to win)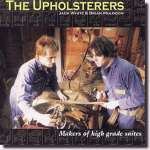 In one of the press clips of the film that I got to screen, Jack White talks about how he came into making music through a Detroit co-worker (Brian Muldoon) at an upholstery apprenticeship he did in high school. The band they formed was fittingly called The Upholsterers, and their first 7″ was Makers of High Grade Suites (2000).
Even in these blisteringly raw tracks, you can hear the rumblings of what was to come from Jack White:
Apple Of My Eye – The Upholsterers (Jack White & Brian Muldoon)
I Ain't Superstitious – The Upholsterers (Jack White & Brian Muldoon)
Pain – The Upholsterers (Jack White & Brian Muldoon)
The documentary also shows the making of a U2 single (I saw clips of The Edge out at a beach home, noodling), has original music from Page, and yields a new song written on the spot by Jack White for the film (his Fly Farm Blues single is out today on Third Man Records).

It might get loud, indeed.