November 20, 2012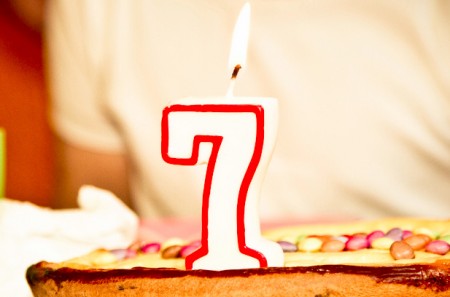 Seven years ago I had just moved to Colorado, away from California where I had spent my adolescence and young adulthood going to concerts, developing my musical footing, and making friends who loved music as much as I do. At the foot of the Rocky Mountains I had moved into a big, quiet blue house up in suburbia and worked part-time contract work for my university that I'd left to seek greener, more mountainous pastures. This meant there were long stretches of quiet in that house, ones that made all my molecules ache for the same connection I'd left behind with all my friends and places that felt like home in the San Francisco Bay Area. I put on records, but those aren't as fun to listen to alone all the time, or with a two year-old kiddo; plus you have to turn it way down at naptime.
I remember that blogs were a brand new experimentation to me; I hardly read any, nor did I know yet what purpose they could serve in the media landscape. They were still all written in largely hyper-personal terms, and if you know me, you know I like that trait in pretty much anything. One day I remember opening a window on Blogger, poising fingers over the "Name your new blog!" field, and thinking I'd give it a try. I was drawn to the idea of being able to keep in touch with the folks I'd left in California, and having a mouthpiece to externally process this new fire hydrant of undiscovered music that I was just starting to read about on blogs like Aurgasm, Largehearted Boy, Marathon Packs, Said the Gramophone, and Aquarium Drunkard. My first posts are charmingly conversational, and I remember the rush when I installed a Statcounter and saw that I'd had more than fifty hits one day, and they came from all over the globe. I remember one ping came from some small industrial town in the middle of Russia and I sat there blinking, trying to reconcile this new, one-sided form of pen-pal possibility with the faceless folks who had found me.
Seven years later, I feel like all of this has gone through several iterations around me. Blogs quickly became this strangely-officially-recognized media outlet, and all of us responded in very different ways in that freedom, without a roadmap of where we were going. Some of us took on staffs of writers and made it a full-time thing; some specialized even more precisely into one genre and have created a vast and passionate documentation of forgotten music, or started their own carefully-curated record label. The array of blogger parties at SXSW make me dizzy just to think about them. I found my email inbox inundated with review requests, my mailbox full of promo CDs, and my interview dance card as full as I wanted it to be. I have loved this freedom to explore, and to share my wanderings and my passions with all of you guys. The connections with each of you are why I keep doing this; I've have some of the best readers in the blogosphere, and this blog has been the glue that has melded me to so many likeminded souls around the world who are pursuing music for the same reasons that it draws me. For this, I am grateful.
I was ruminating with a friend yesterday morning about that reflection from Jana Hunter on our relationship with music, and how perhaps it's becoming cheaper. The relationship with music is a subject I think about a lot; all you have to do is read the Nick Hornby quote that's greeted you on my sidebar since the very beginning: "I love the relationship that anyone has with music: because there's something in us that is beyond the reach of words, something that eludes and defies our best attempts to spit it out. It's the best part of us, probably, the richest and strangest part…"
Contrast this with what Jana writes in 2012: "If you consume all the music you want all the time, compulsively, sweatily, you end up having a cheap relationship to the music you do listen to. In turn, this kind of market makes for musicians who are writing with the burden of having to get your attention, instead of writing whatever they'd write if they were just following artistic impulses. It's increasingly difficult and un-rewarding to write music that is considered, patient, and simple when the market increasingly demands music that is easy, thoughtless, and careless."
My friend and I discussed how the upped dosages of new music available on blogs and out there in the world have changed our own personal listening habits, and the deepest relationship that we form with these radiant, external, gossamer threads that we call songs. This is not a blanket statement or a political directive of what you should do, but we talked about how the intimacy and the depth that we forge with our music seems damaged when it becomes just one more "thing" in our busy lives that we have to "get through," as it piles up next to the stereo the way my grad school assignments pile up on the kitchen table. Oh yeah, there are twelve new albums in the last two months that HOW HAVE I NOT LISTENED TO?! Or ones that I have listened to, just to have listened to them.
I don't sit there in the dark of my living room much anymore, after my kiddo is in bed, and just listen. Things are loaded up and shuffled and re-shuffled and refreshed with new tracks I've downloaded that day.
After seven years, where are we going? I try to always write about music that connects with me and excites me in that unexpectedly primal, mysterious way, and then to wrap words around that silver slipperiness. I write to stay in touch with the things that help us feel alive; and I myself have rarely felt more alive than these days at a house show, or sitting in a chapel watching pure magic being spun in front of me. Those are things that I am proud of, and that give me a deep delight to have a hand in creating for others. But blogging is an oddly ephemeral and insatiable media in which to chronicle those sorts of connections. I find myself wanting to be satiable more often, to sit, to be deliberate and content. I think we can do it; I'm not sure the steps I take to get there.

34 comments
34 Comments
Sorry, the comment form is closed at this time.