October 20, 2011
On Saturday nights, what we really all often need (and should always want) is one of those visceral gutpunches of musical redemption. For my money, the best option you've got this weekend is to come see the show Fuel/Friends is presenting with Drew Grow & The Pastors' Wives at the Hi-Dive:
DREW GROW & THE PASTORS' WIVES
with Thriftstore Cowboys and The Eye & The Arrow
Doors 9pm / Show 10pm
$8, 21+
TICKETS HERE (or win them below)
Bootstraps – Drew Grow & The Pastors Wives

Drew released one of my favorite albums of 2010, and has soundtracked some of my favorite moments of the last year. I wrote: From those fuzzy, sexy, pleadingly plaintive blues jams like "Company" to the aggressive push-and-tug of the rowdy "Bootstraps" and the dulcet golden '50s croon of songs like "Hook," this album has pleased me completely. Every song is a favorite. The opening "Bon Voyage Hymn" sets the tone for this album (if it has one) of a sort of rough-hewn, honest, rock gospel as Drew howls, "Sing a shelter over me / With a mighty chorus, slaves set free." And by that I mean the oldest spirit of gospel, in community and a shared love of singing, with our heads thrown back and our feet stomping — but while the guitar squalls and the dirty drums crash.
At the house show they played for me last November, it was like the best kind of church, a jaw-dropping explosion of goodness.
After breaking his FEMUR in a van accident earlier this year, and now in the midst of a successful string of shows with the kickass women of Wild Flag, Drew had a gorgeous acoustic EP ("I wanted to see which songs could survive being this naked," he said) and hung out with me for a few days in San Diego while they were on tour. Their music is just as vibrant as ever.
They are eminently deserving of your listening ear and your presence on Saturday night. See you there?

TICKET GIVEAWAY
I have three pairs of tickets to Saturday night's show, please email me if you would like a pair. Take my word, and tell a friend!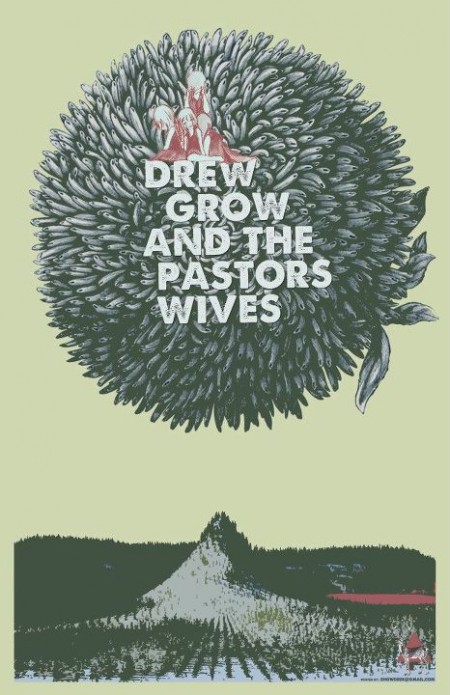 DREW GROW & THE PASTORS' WIVES TOUR DATES:
% = headline
* = w/ Wild Flag
October 20th @ Flying M Garage (Nampa, ID) %
October 21st @ Kilby Court (Salt Lake City, UT) %
October 22nd @ Hi Dive (Denver, CO) %
October 24th @ Replay Lounge (Lawrence, KS) %
October 25th @ The Opolis (Norman, OK) %
October 26th @ Lola's (Ft Worth, TX) %
October 27th @ Fitzgerald's Downstairs (Houston, TX) *
October 28th @ The Loft (Dallas, TX) *
October 29th @ La Zona Rosa (Austin, TX) *
October 31st @ Rhythm Room (Tempe, AZ) *
November 1st @ The Casbah (San Diego, CA) *
November 2nd @ Troubadour (Los Angeles, CA) *
November 3rd @ Troubadour (Los Angeles, CA) *
November 4th @ Great American Music Hall (San Francisco) *
November 5th @ Great American Music Hall (San Francisco) *
November 7th @ Humboldt State (Arcata, CA) *
November 9th @ Doug Fir Lounge (Portland, OR) *
November 10th @ Doug Fir Lounge (Portland, OR) *
November 11th @ Neumos (Seattle, WA) *
November 12th @ Biltmore Cabaret (Vancouver, BC) *

4 comments
4 Comments »
Leave a comment