June 21, 2011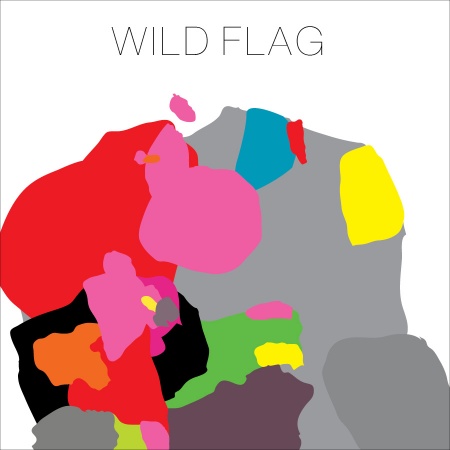 Holy wow. The ladies of WILD FLAG have knocked it clean out of the park with their new single, "Romance." Yep — a baseball metaphor for this summer song:
It's unrelenting from the opening guitar chords and Janet Weiss's tremendously fierce drums, but playfully engaging. WILD FLAG dropped my jaw at SXSW, the band of kickass women featuring Carrie Brownstein, Janet Weiss, Mary Timony, and Rebecca Cole. All told, they've been in bands like Sleater-Kinney, Quasi, Helium, The Minders, and Stephen Malkmus & the Jicks.
Longtime friends, these four are formidably awesome in their new concoction. They get everything right here – the catchy lilting feminine vocals press aggressively right up against the wall of drums and squalling guitar. There's handclaps, and shake-shimmy-shake, and ROCK.
Their self-titled album is out September 13 on Merge Records, and you can pre-order it now. They're also on tour – you need to go:

WILD FLAG TOUR DATES
June 24 – Calgary, AL Sled Island
June 25 – Calgary, AL Sled Island
July 22 – Chicago, IL Subterranean
July 23 – Chicago, IL Wicker Park Festival
Aug 12 – Brooklyn, NY Wmsburg Waterfront w/ Sonic Youth
Oct 3 – Minneapolis, MN Varsity Theatre
Oct 4 – Omaha, NE Waiting Room
Oct 5 – Kansas City, MO Record Bar
Oct 7 – Champaign, IL High Dive
Oct 9 – Chicago, IL Empty Bottle
Oct 10 – Cleveland, OH Grog Shop
Oct 11 – Toronto, ON Lee's Palace
Oct 14 – Boston, MA Paradise
Oct 15 – Brooklyn, NY Bell House
Oct 16 – Hoboken, NJ Maxwell's
Oct 18 – New York, NY Bowery Ballroom
Oct 19 – Philadelphia, PA Union Transfer
Oct 20 – Washington, DC Black Cat
Oct 21 – Carrboro, NC Cat's Cradle
Oct 22 – Athens, GA 40 Watt
Oct 24 – Birmingham, AL Bottletree
Oct 26 – New Orleans, LA One Eyed Jacks
Oct 29 – Austin, TX Emo's
Oct 31 – Tempe, AZ Rhythm Room
Nov 1 – San Diego, CA Casbah
Nov 2 – Los Angeles, CA Troubadour
Nov 3 – Los Angeles, CA Troubadour
Nov 4 – San Francisco, CA Great American Music Hall
Nov 5 – San Francisco, CA Great American Music Hall
Nov 7 – Arcata, CA Humboldt State
Nov 9 – Portland, OR Doug Fir
Nov 10 – Portland, OR Doug Fir
Nov 11 – Seattle, WA Neumo's
Nov 12 – Vancouver, BC Biltmore Cabaret

4 comments
4 Comments »
Leave a comment