December 4, 2010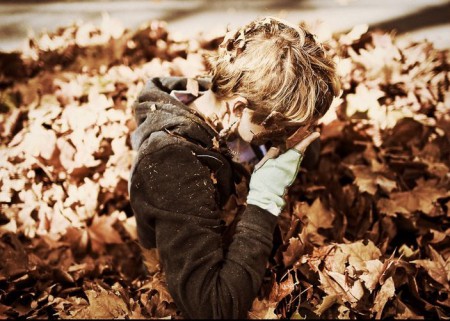 There is an intimate immediacy of music recorded and released in a matter of weeks, as if you are somehow more privy to and connected with what the artist was thinking. Like the brown leaves that wreath bandmate Kris Doty on both sides of the new Comfort Feel EP from Drew Grow (streaming as of this evening), it radiates an autumnal beauty: things dying and drying up, yet golden and striking – with a hint of what may come next spring.
Two old songs straddle two brand new ones, with reworked versions of Drew Grow and The Pastors' Wives songs in between. As much as I love Drew's full-length from earlier this year, I was extremely keen to hear new creations. He played "Lightning Rod" at my house show in October and I remember it slayed me, so I am thrilled (and cut) to have a version I can listen to over and over: "If I were as brave as a lightning rod / bet you then I'd know for sure… I'd feel the kill, but I'd know for sure." The older song "The Other Shore" feels like walking heavily through a softly medicinal dream, while "King On Your Throne" is dry and crackling, like a gospel tune on an old-fashioned heavy wax record, hissing and popping.
When I talked to Drew tonight about this EP, he described a night of some musical urgency: him, in a basement, with music that wanted to be heard and played that night, and a bottle of wine. "I wanted to see which songs could survive being this naked," he said.
STREAM THE WHOLE EP:

The physical CDs will be available this Wednesday at the DGPW show at The Woods the Portland, and also at their holiday fundraiser at the Doug Fir. I know what I want for Christmas.
[album photos by Dylan Priest]

3 comments
3 Comments
Sorry, the comment form is closed at this time.