May 3, 2011
…and he is going to play us some music on Saturday night, and I really think you should come. If you have been reading Fuel/Friends for a while, y'all know that I think Joe Pug is one of the most piercingly insightful songwriters making music right now, and this will be an amazing night that hopefully leaves your jaw somewhere on my floor.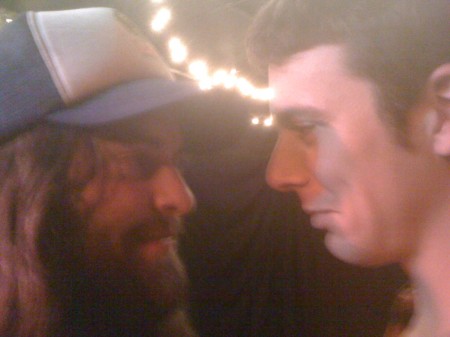 Now, you can't tell from this picture (taken as "a Fuel/Friends exclusive" the other night — to which I texted back "it looks like a still from a '70s porn"), but together with his touring mate Strand of Oaks, Joe is prepared to knock our collective socks off this Saturday, May 7th. Do RSVP here. I recommend bringing mint juleps.
So great is the obvious mutual musical affinity between these artists that they have each chosen one song of the other's to cover. "Hymn #101" would rank up there as one of my most un-coverable songs ever, but I really admire the way Tim/Strand of Oaks is able to harness it and make it his tentative, haunting own.

End In Flames (Strand of Oaks cover) – Joe Pug
Hymn #101 (Joe Pug cover) – Strand of Oaks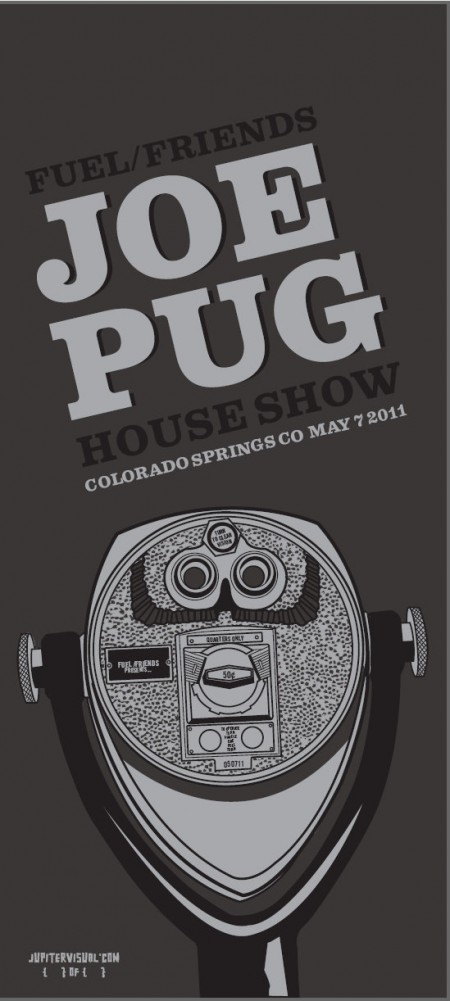 The poster here is specially designed by Jupiter Visual for us, and we are super pleased to be working with them again. They'll be on sale at the house show in very limited quantities, on I think a nice dark blue paper with silvery ink.

Joe's also given me one of my favorite quotes, ever, in an interview we did one warm night back in 2009. He said:
"I think what a lot of people don't necessarily realize… I mean, there's no question that as you get older you get wiser. I'm not wiser than anybody else. But I think with youth there's a certain greater willingness to say these things I say in my songs, whereas when you get older, you've experienced so much and you've seen so many contradictions in your life that you rightfully are hesitant to say anything out loud because you've seen everything proved wrong, at least once, you know what I mean?

In youth, you can make broader declarations, but also at the same time – there was one artist who said, 'The entire job of the artist is to not get beat down by the meanness of the world.'

And I'm not talking about hope, or hopefulness. Art can be about that, but doesn't necessarily have to be about that. It does have to do with believing things, though, whatever those things are. Whether they are the bleakest thoughts on the face of the earth or the most hopeful, you have to believe in them. And even if it's temporary – even if you just believe them for those five minutes when you wrote the song, or if you've believed it since you were three years old until you pass on. So maybe it's easier to believe in things when you're younger."

Anyone who says stuff like that in his off-time, just sitting in a park, is going to make some damn good music. Come check it out.
Finally, this never gets old:

If you can't come to my house show, please check him out at one of these other stops; you are in for a treat.
JOE PUG SPRING TOUR
May 3 St. Louis, MO–Off Broadway
May 4 Lawrence, KS–The Bottleneck
May 6 Denver, CO–Hi Dive
May 7 Colorado Springs, CO–Fuel/Friends House Show
May 8 Salt Lake City, UT–Kilby Court
May 10 Pullman, WA–BellTower
May 11 Bellingham, WA–The Green Frog
May 12 Vancouver, CAN–The Media Club
May 13 Seattle, WA–Tractor Tavern
May 14 Portland, OR–The Doug Fir
May 15 Willamina, OR–Wildwood Hotel
May 17 San Francisco, CA–Bottom of the Hill
May 18 Santa Cruz, CA–The Crepe Place
May 19 San Diego, CA–The Casbah
May 20 Los Angeles, CA–The Satellite (formerly Spaceland)
May 21 Tempe, AZ–The Sail Inn
May 22 Albuquerque, NM–Low Spirits
May 24 Oklahoma City, NM–The Blue Door

7 comments
7 Comments
Sorry, the comment form is closed at this time.