April 15, 2009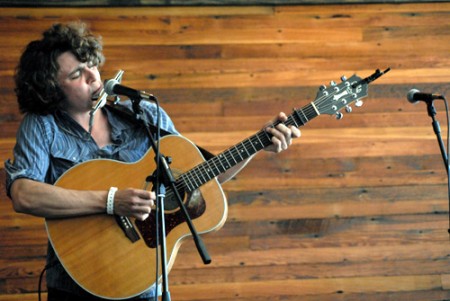 I cannot get this song or this artist out of my head. Joe Pug is a young man from Chicago, with a mop of curly hair and songwriting that injects fire and ache into my veins.
Hymn #101 – Joe Pug
His whole name is only six letters, pops off the tongue quickly. This 24-year-old carpenter crafts folk songs steeped in stories that stop me in my tracks, and laden with lyrics that feel weightier than your standard fare: "The more I buy the more I'm bought, and the more I'm bought, the less I cost."
Pug cites a love of stark authors like Whitman and Steinbeck, and that rugged depth cracks out of his music as well.
I want to listen to his Nation Of Heat EP over and over, because I keep getting something new out of it each time I listen.
UPDATE: My interview with Joe Pug is here.


Also check out his videos on My Old Kentucky Blog's rad Laundromatinee project. Pug plans to release his debut full length record in 2009.

JOE PUG TOUR DATES
* with M Ward
# with Horse Feathers
Apr 18 – Hope College Holland, Michigan
Apr 27 – The Phoenix Toronto *
Apr 28 – Le National Montreal *
Apr 29 – 7th Street Entry Minneapolis, MN #
Apr 30 – Univ of Madison, Der Rathskeller Madison, WI #
May 1 – Schubas Tavern Chicago, IL#
May 2 – Schubas Tavern Chicago, IL#
May 3 – Canopy Club Champaign, IL#
May 4 – Rumba Cafe Columbus, OH#
May 5 – Mohawk Buffalo, NY #
May 6 – Bug Jar Rochester, NY #
May 7 – TT's Boston, MA#
May 9 – The Bellhouse Brooklyn, NY #
May 12 – Joe's Pub New York, NY #
May 13 – World Cafe Live Upstairs Philadelphia, PA #
May 14 – The Black Cat Washington DC #
May 15 – Local 506 Chapel Hill, NC #
May 16 – Drunken Unicorn Atlanta, GA #
May 17 – The Basement Nashville, TN #
May 19 – The Bottleneck Lawrence, KS #
May 20 – Bluebird Denver, CO #
May 21 – B-Side Lounge Boulder, CO #
May 23 – Summer Camp Festival Chillicothe, IL
Jun 13 – Bonnaroo Manchester, TN
Jul 4 – Bukta Tromso Open Air Festival, Norway Tromso
Jul 9-12 – Winnipeg Folk Festival Winnipeg, Manitoba
Jul 14-15 – Cisco Ottawa Blues Festival Ottawa, Ontario
Jul 18 – Mile High Music Festival Denver, CO
Jul 25 – 10,000 Lakes Festival Detroit Lakes, MN
Aug 1 – Pickathon Portland, OR

8 comments
8 Comments
Sorry, the comment form is closed at this time.