April 15, 2011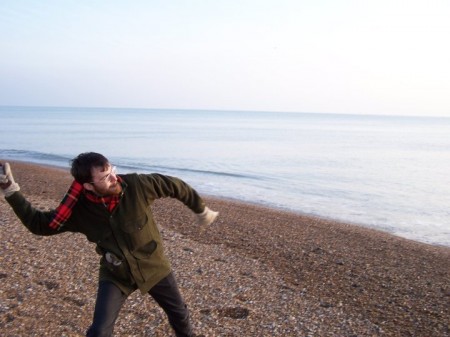 Eric Anderson is the core of Seattle's Cataldo, and I love his music terrifically. I've written a few times before about him and included his songs on both my summer and fall mixes last year. There is something in the pointed honesty and cleverness of his lyrics, which when combined with the catchy melodies (banjo! singalongs! quiet handclaps!) reel me right on in. As he writes, the music "hopefully seems like it was composed by a hard worker with a mild taste for adventure," which is an excellent summation.
His latest, greatest album Signal Flare came out in 2008, so it has been a long wait for some new music. Eric is finally is ready to release another, but needs a Kickstart. He has crafted the Kickstarter packages in finely dashing style too – in addition to the album you can get bonuses like a handwritten haiku, a pho date, a custom cover song, even what is apparently the best ice cream in all of Seattle. This is a man who is having some fun – and you can benefit. Please head over to his page; this is a rich, earthy, thoughtful, poignant album that needs to be heard.
Here is the gorgeous music video that Seattle videographer Christian Sorensen Hansen made of "Deep Cuts," the opening track from the new album. Sorensen Hansen is the same distinctive director behind The Head and The Heart's "Lost In My Mind" video — so evocative, his work.
I can't tell which resonates in my heart louder: the song itself ("let's begin at the end / of a bad year, with bad things at my back…"), or the combination of the sound of rain falling (!), the blanketing fog, the ocean horizon twinkling with lights, and the rising embers from the campfire:

PS – The new Cataldo album includes a re-worked electric version of "My Heart Is Calling," which is good because I've listened to the version from Signal Flare about a jillion times.

5 comments
5 Comments
Sorry, the comment form is closed at this time.