July 29, 2010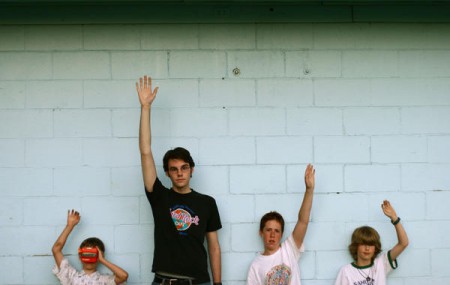 Eric Anderson + a rotating cast of friends make up the Seattle band Cataldo. I don't think the little kids are in the band (but would likely relate to the unjaded spirit of the songs it if they were). If you've sampled and enjoyed my summer mix, you might recognize Cataldo from the handclappy communal campfire goodness of "Black and Milds," one of my favorite songs on that collection.
If it were possible to wear a groove into a digital stream, I would have surely etched one into their 2008 album Signal Flare by now, as it streams in full on Anderson's website as my constant soundtrack of these hot midsummer weeks.
You should buy the album. This final song from it gets my highest recommendation if you love to sing and dance along to folks like Ben Kweller and Ben Lee. Which, really, should be all of you:
My Heart is Calling/Following – Cataldo

Eric writes in his charming biography, "I want to make beautiful things using people and tools around me. I believe in circuitous, round-about methods, trying as hard as you can, and fucking up as much as is necessary before you get things right. I believe in counter-melodies, gang vocals, and the banjo. Most of all I believe in singing things that are important to me and might be important to you." I could not agree more. This is catchy, appealing, intelligently literate pop laced with sunshine and beat.
My friend Katie recommended that song on the summer mix, and has turned me on to their whole, wonderful catalog. I had a chance to see them with Laura Viers and Old Believers in March, and I do believe I failed dramatically by enjoying that second beer across the street instead of getting to the venue earlier. Hindsight!
Another favorite song on the album is the fantastic "Five Years Coming." Over a banjo and piano melody, Anderson sings the truth:
"It's been five years coming and one thing I can attest: that the simple songs of hope I wrote have always been my best."
Yes.



3 comments
3 Comments
Sorry, the comment form is closed at this time.