March 10, 2010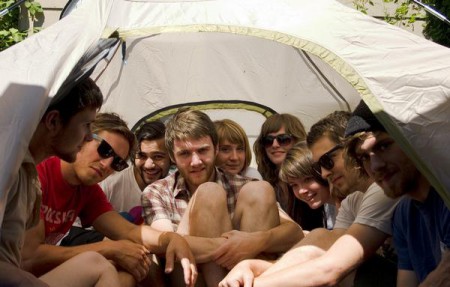 Last weekend I shuffled into a smalltown venue I'd never been to, on the streets of hippie enclave Manitou Springs (my neighbor to the west) to see Laura Veirs play and sing in a hometown show. I knew nothing about the opening bands, but was immediately smitten when lone Nelson Kempf from Old Believers came out on stage, kicked his looping beats into effect, and starting strumming and playing this:
It's With You Now (Red River cover) – The Old Believers

His version was different in every way from this 7″ vinyl version with the full band (and female lead vocals). Not only were we treated to the purity of him alone, his earnest voice, and an acoustic guitar, but he led us all in a singalong (bold move for a first song from an opening band, but it worked. Completely). We sang along "all the love, all the love…." in time with that bass line, and I swooned for the lyrics. Everything suddenly felt very warm and very right.
When the rest of the members came out on stage to join him, the music they crafted for us was reminiscent of a cross between Apostle of Hustle and Josh Ritter. If it sounds like fun, that's because it absolutely was, and I am now actively seeking what else I can find about this small band.
Granny's Song – Old Believers


Their full-length Eight Golden Greats came out in '08, new one rumored to be in the works. Old Believers and Red River are both part of the Brave Records label out of Portland, and both are charming my speakers currently.

3 comments
3 Comments
Sorry, the comment form is closed at this time.