October 23, 2009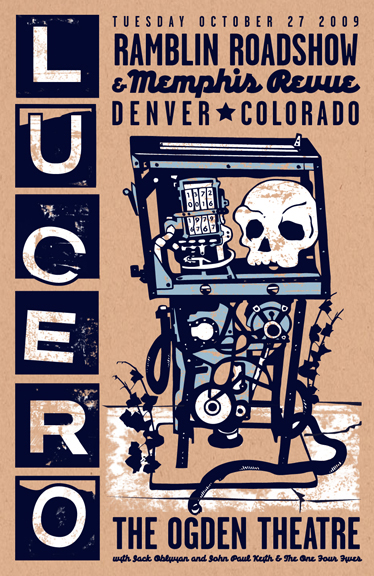 Gravelly-voiced, unrelentingly rocking Memphis band Lucero engenders the most rabid of fans, and for good reason. Their songs pulse hot and true with the heart of rock and roll (yes, Huey, it is still beating).
Lucero comes through Denver on Tuesday night on their "Ramblin Roadshow & Memphis Revue" tour, in support of their sixth studio album 1372 Overton Park. The album is their major-label debut, and was produced by Ted Hutt (The Gaslight Anthem). After a series of near misses, I think this time I will finally make it to be baptized into the cult. The show is rumored to be daunting in its intensity, but I hope mostly it won't hurt.
To celebrate with us, talented Denver poster artist Alan Peters (Jupiter Visual) has offered a pair of posters to Fuel/Friends readers. The posters are three-color screenprints, 13″x20″ on kraft brown enviro-cardstock. They're pretty damn cool.
TO WIN: The new album is named after the Memphis loft where the band used to live and make music, but also enviable: in the '70s, 1372 Overton Park was a karate dojo where local resident Elvis Presley, among others, took lessons. Tell me a story in the comments about a place you used to live. I'll pick two winners on Monday night before I go to bed.
Nichols is one of the finest writers we have of music to accompany bitter disillusionment and heartbreak, but Lucero's best songs also burst forth with a sort of irrepressible hope — here, in the shiny Memphis horns.
1372 Overton Park is out now; see you Tuesday at the show.

"So what if all my heroes are the losing kind?
We ended up with nothing, but we put up a fight.
Well come on little darlin', can't you cut us all some slack?
'Cause the winners they all took off babe, and they're never coming back…"
What Are You Willing To Lose? – Lucero
(from the new album)
Hey Darling, Do You Gamble? – Ben Nichols of Lucero, solo
(great song with a Townes Van Zandt backstory, from this earlier post)

PS: This Lucero song is still one of my favorites from them — or from anyone for that matter. It's made it onto near every mix CD I've made for the past 3 years.


LUCERO FALL 2009 TOUR DATES
Oct 23 – Varsity Theater – Minneapolis, MN *
Oct 26 – Aggie Theatre – Ft. Collins, CO †
Oct 27 – Ogden Theatre – Denver, CO †
Oct 29 – The Crocodile – Seattle, WA †
Oct 30 – Hawthorne Theatre – Portland, OR †
Nov 1 – Mezzanine – San Francisco, CA †
Nov 4 – The Casbah – San Diego, CA †
Nov 5 – The Clubhouse – Tempe, AZ †
Nov 7 – Longhorn Saloon – Ft. Worth, TX #
Nov 8 – Fun Fun Fun Fest – Austin, TX #
Nov 9 – Meridian – Houston, TX #
Nov 10 – Alabama Music Box – Mobile, AL #
Nov 12 – Club Downunder @ FL State Univ. – Tallahassee, FL #
Nov 13 – Czar – Tampa, FL #
Nov 14 – Lizzie McCormick Stage – Orlando, FL #
Nov 15 – Café Eleven – St. Augustine, FL #
Nov 17 – Visulite Theatre – Charlotte, NC #
Nov 18 – 40 Watt Club – Athens, GA #
Nov 19 – Valarium – Knoxville, TN #
Nov 20 – Orange Peel – Asheville, NC #
Nov 21 – Headliners – Louisville, KY #
* with Amy LaVere and Cedric Burnside & Lightnin' Malcolm
† with Jack Oblivian and John Paul Keith & the One Four Fives
# with Cedric Burnside & Lightnin' Malcolm and The City Champs

7 comments
7 Comments
Sorry, the comment form is closed at this time.