May 16, 2009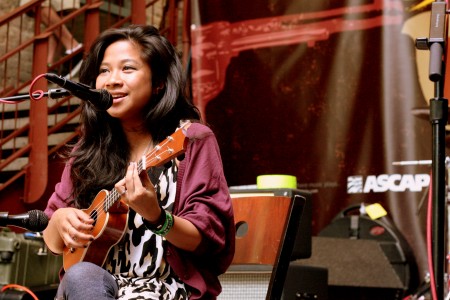 One of the most surprising new acts that I saw at SXSW this year was the diminutive 23-year old Zee Avi, from Malaysia. Plucked from obscurity half a world away in Kuala Lumpur through her homemade YouTube videos, which were seen by Raconteur's drummer Patrick Keeler and passed along to White Stripes manager Ian Montone, Zee is freshly signed to Brushfire Records.
Her debut self-titled album comes out on Tuesday, with a sound that is a refreshing throwback to jazz vocalists of the 1920s, cross-bred with an island vibe of acoustic guitar and ukulele.
Zee and I bonded over Colorado beers in a noisy bar in Austin after her daytime set at the Filter Magazine party. She looks maybe 17, so I had to double-check before I ordered us some drinks. Still electrified from her well-received set a few minutes prior, Zee was utterly approachable, and completely passionate about where her music is taking her.

ZEE AVI INTERVIEW
F/F: When you were studying in London, were you focusing on musical education, or law?
Zee: Well, primarily fashion design, at first. I did my undergraduate there at the American Intercontinental University in England, but I eventually decided I no longer had "the passion for fashion"…. I did do eight levels in law when I was seventeen – I joke that I was "bred to be a lawyer." My dad's whole family were lawyers, so they had that driven mindset. But I'm really glad that they pushed me towards that, because it did teach me a lot about hard work.
I started teaching myself to play the guitar, though, in Malaysia. I had a lot of free time when school ended each day and I bought this guitar for 19 ringgit, which I would say is around thirty bucks. After I got back from London, I bought myself a chord book and decided to take the guitar out of the closet where it had been sitting and….you know, started jamming my A and G chord. It took me some time to figure out how to stretch my hands around it, I have the tiniest hands – you should see how long a bottle of nail polish will last me (laughs). Oh – and it's an ongoing joke at practice that a ukulele is actually a normal-sized guitar for me. So, I played rhythm guitar in a couple of bands, and then moved to London. When I moved back to Kuala Lumpur, that's when I really started with the songwriting.

The first time I heard your music, it was kind of surprising (to me, at least) for a girl from Malaysia to have a sound that's very much throwback to American music styles from, say, the 1920s onward. Where did that influence come from? Were you exposed to women in jazz a lot growing up?
I actually had that comment once on a YouTube video, something like – "How did a twenty-something Malaysian girl sound like she's from the Mississippi delta?" But I guess for me, it just came naturally. Of course, listening to music that was from that era really helped a lot, it inspired me. Sure, I went through my rock periods and my British indie phase when I was in London, but I felt like none of them really fit me. So I fell back into listening to jazz, and I connected with its simplicity and honesty and just the lack of sugar-coating to the lyrics. Vocal-wise, I would say that 1920s music has a lot of impact on how I write my music today.
In Malaysia, jazz is a pretty big circuit, so I was exposed to it, but I would certainly never call myself a jazz singer even though I love it. Among my friends I am probably still one of the only one who listens to that era, or looks for vintage vinyl, old pressings, of this music from a different time. But American music in general – I mean, blues and jazz came from here and have shaped and defined modern music. I love going back to the roots to see how it shapes music today. I mean, if it weren't for Howlin' Wolf, Led Zeppelin wouldn't have been around.

The way your music was discovered, through your personal YouTube postings, is pretty cool. Tell me about why you started doing that – was that primarily driven by a desire to have your creativity heard?
Well yeah, the whole internet thing has definitely been a blessing. I think it is such a good outlet to help you put your work out there no matter what you do. It does seems to be a more common story these days, that someone, somewhere has their talent first seen on the internet. It's been pretty crazy to be heard by so many people, and that Patrick (from The Raconteurs) took an interest in my work. I hadn't even told my friends or family about it until I got the deal. It was really just a place where I could let things out and just write songs for me.
I mean, I don't talk much about this part of the story, but the whole reason I had even started with YouTube in the first place is simply because a friend of mine missed my first gig and he's a poet and I really wanted his feedback on "Poppy," which is the first song I wrote. He wanted me to send him and mp3 but I didn't know how to do that, but I did have a crappy webcam and an old IBM laptop, with a call center headset. After he watched it, I was going to delete it, with all of the grainy and crackly sound, but he said, "No, why don't you just let it nest there for a little bit?"
So I left it up instead, and within a few days I started getting other comments on it from around the world, from random strangers. It was just more encouragement for me. I found that the more videos I started recording, the reception was great and more people started coming to the channel to see them and comment and sharing them with their friends. It was all a big, crazy snowball effect

Tell me about the new record that you recorded at Brushfire Studios in Southern California – was that the first time you'd been in LA?
Yes! It was the first time I had been to the U.S. at all, so you can just imagine everything being brand new, and me being a trainwreck of nerves and jetlag. The material that I arrived with was a blend of older stuff from YouTube and new things I had written more recently that they liked when I played for them, they said, "You know what, we should put that on the record!" It was an incredibly good experience – I feel like they are all family now.

One interesting thing on the album is the Morrissey cover song! Why did you decide to cover "First Of The Gang To Die"?
Well, I've always been a really big fan of the Smiths, and that particular song was actually played all the time in this indie club in KL (Kuala Lumpur) but it became kind of like an anthem for all of us in that club. It reminds me of feeling like warriors, and a pact of being different from everybody else, and it is just such a beautifully written song. And apparently Morrissey has heard my version of it — which is daunting for me to think about – apparently Ian (Montone, manager) sent it to him. It's just crazy!

Are you still writing these days? It has been a pretty crazy few months for you.
Yeah, I'm creatively exhausted at this moment. I plan to go home and recuperate for a little while and be a hermit and grow a shell. I need it. Because this summer I have a lot of touring, some cool festivals coming up for me like No Depression in Seattle (with Iron & Wine and Gillian Welch) and Bonnaroo and Outside Lands in San Francisco. It'll be a good summer.
###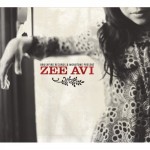 Zee's self-titled debut album is out Tuesday May 19th on Brushfire Records, and you can stream the whole thing on her MySpace.

The Story – Zee Avi
VIDEO: FOUR ZEE AVI ACOUSTIC PERFORMANCES
Live at the Solar Powered Plastic Plant


ZEE AVI TOUR DATES
May 17 – Boulder, CO Etown taping (opening for Mike Doughty)
May 19 – Long Beach, CA – Fingerprints Instore
May 20 – Los Angeles, CA – The Roxy
May 22 – San Fran, CA – The Rickshaw Stop
May 26 – Towson, MD – WTMD Listener event
May 27 – Charlottesville, VA – Twisted Branch Tea Bazaar
May 28 – Washington, DC 9:30 Club (opening for A Camp)
May 30 – Philadelphia, PA – World Cafe Live
May 31 – New York, NY – Mercury Lounge
June 1 – Hoboken, NJ – Maxwell's
June 6 – Pittsburgh, PA 3 Rivers Arts Fest (opening for Medeski, Martin & Wood)
June 13 – Manchester, TN – Bonnaroo Music and Arts Festival
June 15 – Chapel Hill, NC – Night Light
June 16- Kill Devil Hills, NC- The Pit Surf Shop
June 17 – Columbia, SC – Hunter Gatherer
June 19 – Opelika, AL – Eighth & Rail
June 20 – Birmingham, AL – City Stages Festival
July 9th – Spokane, WA- Knitting Factory
July 11th – Redmond, WA – No Depression Festival
July 12th- Vancouver, BC – Media Club
August 28th San Francisco, CA – Outside Lands Festival

13 comments
13 Comments
Sorry, the comment form is closed at this time.