August 23, 2012
When Seattle folk songwriter Noah Gundersen decided to cover Vic Chesnutt's "Flirted With You All My Life" very late one night at this year's Doe Bay Fest, it felt surreal. A bunch of us had gathered for a secret show after midnight on the field, lit by a few torches stuck in the grass. Noah sat next to Daniel Blue (Motopony), John Roderick (The Long Winters), and Bobby Bare Jr., and each songwriter took turns singing songs out into the darkness. Daniel stood up and sang one completely a cappella, his vibrato piercing the night like an unearthly arrow.
The Perseid meteor shower was showing off in earnest overhead, and I was sitting with a musician whose work I deeply appreciate, our heads craned back to see the flashes and streaks of dying stars above. We were there on an island accessible only by boat. The ocean stretched black and blending with the sky around us.

I was ambushed, then, as he sang.
Flirted with you all my life
even kissed you once or twice
even though I thought it was nice
I know, I'm not ready
When you touched a friend of mine
I thought I would lose my mind
though I found out with time
indeed, I was not ready
oh death, oh death, oh death
really, I'm not ready
when my mom was cancer-sick
she fought but then succumbed to it
but you made her beg for it
lord Jesus, I'm not ready
oh death, oh death, oh death
really, I'm not ready
It's hard to write about the incongruous force I felt in that moment of wanting to stave off death like the song says, without sounding maudlin. But saturated as we were in late-summer-night happiness, feeling so damn young and so damn alive — this song was like a small plea out to the gaping universe. What is it about August that fools us sometimes into thinking that we're untouchable? If ever there was a setting for believing in lies, it was this one.
The rueful smile on Noah's face in this video as he sang, well it just hits me in the center. We know what's waiting; while we flirt with each other and open-mouth kiss this life, we know. All of us wished, I think, that maybe the nastiness of death would just forget about us all there on that speck of land in the sea for another day, another summer. Another year.
I'm not ready.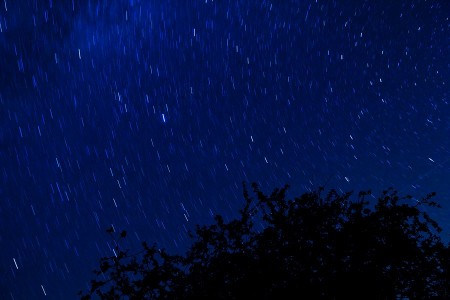 You can listen to Noah Gundersen's EP here; he blew all of us away during his regular sets at the fest as well, when not covering amazing songs on a firelit field. A solid ("highly-touted") talent, with clever sharp phrasing and a commanding voice that makes you stop what you are doing and listen:

I haven't been able to string together a review of the weekend yet; I think it will come out in trickles. Megan from the Music vs Misery blog and Adam from the Songs For The Day blog also came as part of our group this year, and their reviews are much more cogent and compelling than I am capable of assembling right now. I also agree with everything they wrote, so let's just pretend they're mine. Easy.

[the photo of the starry night above us that night was taken by Natalie Kardos, and the video was captured by Eratosthenes Fackenthall, by a scintillating stroke of kismet.]