July 14, 2010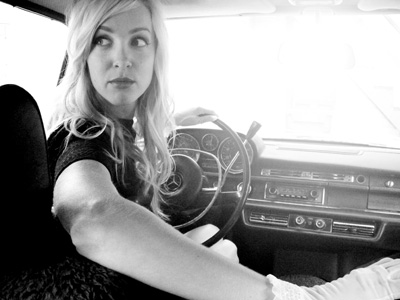 Based on a recommendation from a friend who saw The Mynabirds last night at San Francisco's Rickshaw Stop, I've googled and clicked and fallen in love with the toe-tapping sultriness and all these indie-rock goddess vocals.
Half of the former D.C. duo Georgie James, Laura Burhenn possesses a powerful alto voice that owns this album and every song on it. Ranging from dusty old soul to big gospel harmonies, with clattery percussion that evokes Spoon at times and smolders at others, What We Lose In The Fire We Gain In The Flood (Saddle Creek) is eclectic and thoroughly enjoyable. Burhenn's voice channels the confidence of females like Dusty Springfield circa 1968, to Cat Power or Jenny Lewis in the modern-day lexicon. This song even has a touch of Cowboy Junkies?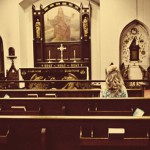 Ways of Looking – The Mynabirds

I also strongly recommend that you listen to the piano-thumping fun of "Let The Record Go" and the echoey girl-group soul of "Numbers Don't Lie," among others.
What We Lose In The Fire We Gain In The Flood was recorded with lots of whiskey and dancing in an Oregon hillside cabin, and was produced by the uncannily flawless ear of Richard Swift (whose pop confections opened a Wilco show for me once). Nate Walcott (Bright Eyes) arranged the shiny horns, and my friend J. Tom Hnatow of These United States brings his wicked slide guitar. It is a fantastic record, been listening to it all day.

CONTEST FOR THE DENVER KIDS: Wanna come see the Mynabirds on Monday night (July 19) at the Hi-Dive? I have a pair of tickets to give away. It's an 18+ show, with Dark Dark Dark. As usual, please email me if you can for sure for reals come. We'll get you on the list.

For the non-Denver residents, here are your other options:
MYNABIRDS TOUR DATES
* = w/ David Bazan
& = w/ Crooked Fingers

07/15: Seattle, WA @ Sunset Tavern
07/16: Portland, OR @ Doug Fir Lounge
07/17: Boise, ID @ Neurolux
07/18: Salt Lake City, UT @ Urban Lounge
07/19: Denver, CO @ Hi-Dive
07/24: Omaha, NE @ MAHA Festival
08/01: Council Bluffs, IA @ Stir Cove (w/ Al Green)
08/07: Council Bluffs, IA @ Stir Live and Loud
08/27: Omaha, NE @ Outside at Slowdown ( w/ Built To Spill)
09/03: Austin, TX @ The Mohawk &
09/05: Tucson, AZ @ Club Congress &
09/06: San Diego, CA @ Soda Bar &
09/08: San Francisco, CA @ Café Du Nord &
09/16: Chicago, IL @ Lincoln Hall*
09/17: Detroit, MI @ Magic Stick*
09/18: Toronto, ON @ Lee's Place*
09/19: Montreal, QC @ II Motore*
09/21: Burlington, VT @ Club Metronome*
09/22: Cambridge, MA @ TT The Bear's*
09/24: Brooklyn, NY @ Brooklyn Bowl*
09/25: Wahsington DC @ Black Cat*
09/26: Charolottesville, VA @ The Southern*
09/27: Carrboro, NC @ Cats Cradle*
09/28: Atlanta, GA @ The Earl*
09/29: Nashville, TN @ Exit/In*
10/01: Jacksonville, FL @ Jack Rabbits*
10/02: Orlando, FL @ The Social*
10/03: Tallahassee, FL @ The Engine Room*
10/05: Birmingham, AL @ The Bottletree*
10/06: New Orleans, LA @ One Eyed Jacks*
[thanks for the tip, Jess!]