May 9, 2011
This Monday morning feels like that quiet moment when you are sitting by the ocean with your feet in the sand, and it is right after the wave crashes in. The water slides flat into silence for an eerily reflective second, thin across the sand as the foam froths in swirls. There is a trough of silence there before the next wave comes roaring in.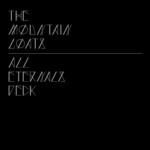 This is a song is about assurances learned quietly, and about taking a break from all of the trying. And it is completely marvelous, track 12 on the latest Mountain Goats record All Eternals Deck (Merge Records). Darnielle is one of my favorite songwriters, and this one feels like an anthem.
This was a wonderfully connective weekend, full of warm rich music and terrific people. I remember telling a friend on Saturday at my Joe Pug house show that it was a night where I just felt for a while like everything was going to be okay.
This is a song for that.
Never Quite Free – Mountain Goats

It's so good to learn that right outside your window
there's only friendly fields and open roads
you'll sleep better when you think
you've stepped back from the brink
found some peace inside yourself
laid down your heavy load
it gets alright
to dream at night
believe in solid skies and slate blue earth below
but when you see him, you'll know
it's okay to find the faith to saunter forward
with no fear of shadows spreading where you stand
and you'll breathe easier just knowing that the worst is all behind you
and the waves that tossed the raft all night
have set you on dry land
it gets okay to praise the day
believe in sheltering skies and stable earth beneath
but hear his breath come through his teeth
walk by faith
tell no one what you see
it's so good to learn that from right here the view goes on forever
and you'll never want for comfort
and you'll never be alone
see the sunset turning red
let all be quiet in your head
and look about
all the stars are coming out
they shine like steel swords
wish me well where i go
but when you see me, you'll know

MOUNTAIN GOATS SPRING/SUMMER TOUR
*with Bright Eyes

May
22 – Whelans, Dublin, Ireland
24 – Coalition, Brighton, England
25 – KOKO, London, England
27 – Academy 3, Manchester, England
28 – Brudenell Social Club, Leeds, England
29 – King Tuts (SOLD OUT) , Glasgow, Scotland
30 – Cluny, Newcastle, England
June
14 – The Varsity Theatre, Minneapolis, MN
16 – The Showbox, Seattle, WA
17 – The Biltmore Cabaret, Vancouver, BC, Canada
18 – Aladdin Theatre, Portland, OR
20 – The Fillmore, San Francisco, CA
21 – The Detroit Bar, Costa Mesa, CA
23 – El Rey Theatre, Los Angeles, CA
24 – The Soho Restaurant and Music CLub, Santa Barbara, CA
26 – Part of Plan-It-X Fest (SOLD OUT), Bloomington, IN
July
28 – Meadowbrook Pavilion, Gilford, NH*
29 – Ben & Jerry's Concerts on the Green, Sherburn, VT*
30 – Osheaga Festival, Montreal, QC
31 – NY Paper Mill Island Amphitheater, Baldwinsville, NY*
August
3 – Meijer Gardens , Grand Rapids, MI*
4 – Egyptian Room, Indianapolis, IN*
5/6/7 – Lollapalooza, Chicago, IL

[my photo, from high above the earth, heading west]