January 25, 2009
This is worth a mention because I'm reading Rilke right now and, well… I always love Bono. Plus it's a cool scarf. Have at it, hipsters.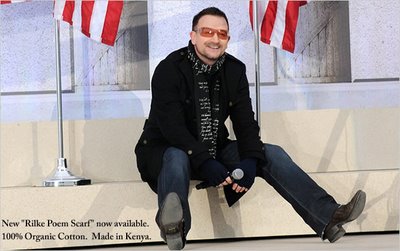 With all its eyes the natural world looks out into the Open. Only our eyes are turned backward, and surround plant, animal, child like traps, as they emerge into their freedom.

We know what is really out there only from the animal's gaze; for we take the very young child and force it around, so that it sees objects–not the Open, which is so deep in animals' faces. Free from death.

We, only, can see death; the free animal has its decline in back of it, forever, and God in front, and when it moves, it moves already in eternity, like a fountain.
Rilke-print scarf, via Edun ("increasing employment and trade for developing regions, especially Sub-Saharan Africa.")
[via]