May 13, 2014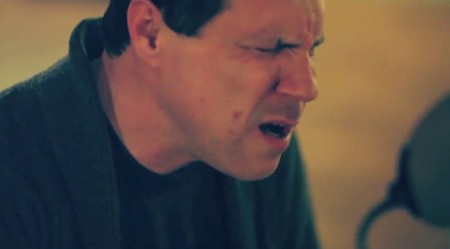 This is one of the more stunning things I have seen this year.
Damien Jurado might be the most talented, evocative, heart-wrecking musicians making songs today, and then you go and put him with a backing choir of some pretty angelic-sounding Seattle ladies and: forget about it.
Metallic Cloud (live, with choral backing) – Damien Jurado

This was apparently part of a recording session for a live album companion to his latest release Brothers And Sisters Of The Eternal Son (Secretly Canadian, 2014). Filmed by my friend Tos in Seattle (he also did this one and this one), it leaves me breathless.
I can't wait to see Damien in late July under the tall pines of the Timber Outdoor Music Fest, in Washington state, by the river. Tickets ARE still available, glad you asked.

DAMIEN JURADO TOUR DATES
05/14/14 Boise, ID: Neurolux
05/15/14 Provo, UT: Velour
05/17/14 Phoenix, AZ: Crescent Ballroom
05/18/14 Los Angeles, CA: Bootleg Theater
05/19/14 San Diego, CA: The Casbah
05/20/14 San Francisco, CA: The Independent
05/23/14 George, WA: Sasquatch! Festival
05/28/14 Aarhus, DK: Atlas
05/29/14 Malmo, SE: Babel
05/30/14 Stockholm, SE: Sodra Teaterns Kagelbanan
05/31/14 Goteborg, SE: Pustervik
06/01/14 Oslo, NO: John Dee
06/03/14 Brussels, BE: Ancienne Belgique
06/05/14 Marina Di Ravenna, IT: Beaches Brew Festival
06/07/14 Athens, EL: Plissken Festival
06/08/14 Belgrad, RS: KC Rex
06/09/14 Zagreb, HR: Mocvara Club
06/10/14 Vienna, AT: Chelsea
06/11/14 Graz, AT: Postgarage
07/17/14 Suffolk, UK: Latitude Festival
07/23/14 Seattle, WA: Timber! Outdoor Music Festival
09/09/14 Amsterdam, AN: Paradiso

Comments Off
No Comments
No comments yet.
Sorry, the comment form is closed at this time.