July 9, 2013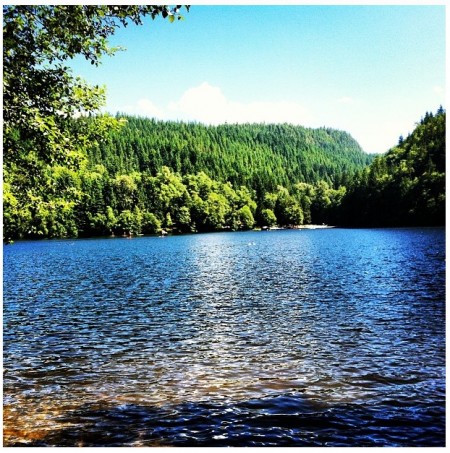 This week I find myself in a part of the world that's just ri-goddamn-diculous, as my friend Sailor Jay would say. I whiled away this afternoon swimming and paddling in a kayak on Alice Lake, a little sapphire in the valley's hand out in British Columbia. As I paddled, and listened to my paddle dripping water onto my legs and the waves lapping against the boat, I watched hundreds of little cerulean blue dragonflies flit and hover and sun themselves. I glided silently under where the mossy trees dip down to touch the water and make a natural cave of leaves.
The song that I started singing out loud for myself was "When You Are Still" by David Wax Museum (and not just because they are playing at my house on Thursday, nor to set up this post)…
I'm flying home from this intellectual summer-camp adventure on Thursday so that I can be back in time to host David Wax Museum for a Thursday night house concert at my place. You are invited.
This is a band that is wonderfully different from anyone I have hosted before, as their music blends this cool Appalachian-folk style with Mexican Son music. David Wax plays a traditional Mexican guitar called a jarana, while his musical partner Suz Slezak plays fiddle and a donkey jawbone called a quijada. This will be the first time that a band has experimented with animal bones in my house, sooooo….. come for that.
You've heard their music, at minimum, on several of my seasonal mixes — "Born With A Broken Heart" to start the springtime, "The Least I Can Do" in late lazy summer, and "When You Are Still" for the autumn. You should also definitely get my favorite full-length from them, Everything Is Saved. They shipped some ahead to my house, so get one Thursday.
Opening the night will be Denver's own amazing Chimney Choir! In their own words, "Chimney Choir conjures colorful avant-pop by mixing old time acoustic instruments with droning synths, junk percussion and 3 part harmonies in a theatrical show." I love junk percussion; Imma start saving cans now.
One last rad recording of them, so you know what we're in for: I still love this line, "Some of us come with new hearts, most of us come with used hearts — baby, why do you look so sad?"
DAVID WAX MUSEUM HOUSE CONCERT
w/ Chimney Choir
Thursday at 7:30pm-ish
We suggest a generous donation for the bands, please, and you ought to BYOB.

2 comments
2 Comments »
Leave a comment