February 20, 2013
The Nomad Theatre in Boulder, Colorado was founded in 1952 by a group of local actors who wanted a stage for performing their plays (at the cost of 75¢ a show), with the generosity of a local liquor store owner named Bauldie Moschetti who let them use his grassy field and helped pay for lights. So that's awesome. The Nomad grew over the years to become a cultural hub for the region, and is one of Colorado's oldest theatres, now fallen on some hard times.
I am pleased to bring you the announcement that a team of citizens, musicians, and cultural soliders in Colorado have joined together to raise the funds to salvage The Nomad and return it to its former glory. There will be a rad benefit kickoff concert on Saturday, April 6, featuring music and contributions from many Fuel/Friends favorites who love Boulder as much as I do.
Songs For The Nomad: A Benefit For The Nomad Theatre will be a wonderful concert community night to kick off their efforts, and we are excited to welcome members of The Head and The Heart, Yonder Mountain String Band, and Rose Hill Drive, with more to be announced.
Lots of other good folks wanted to help out, but couldn't be in Colorado that weekend, so there will also be silent auction contributions from musicians like Pickwick, Blind Pilot, Josh Ritter, Ben Sollee, Jackie Greene, Ani DiFranco, Andrew Bird, and Brandi Carlile. The benefit concert will be held at Macky Auditorium on the CU Boulder campus. Tickets go on sale tomorrow morning (Thursday) at 10am, and are $15 for CU Boulder students and $20 for the general public.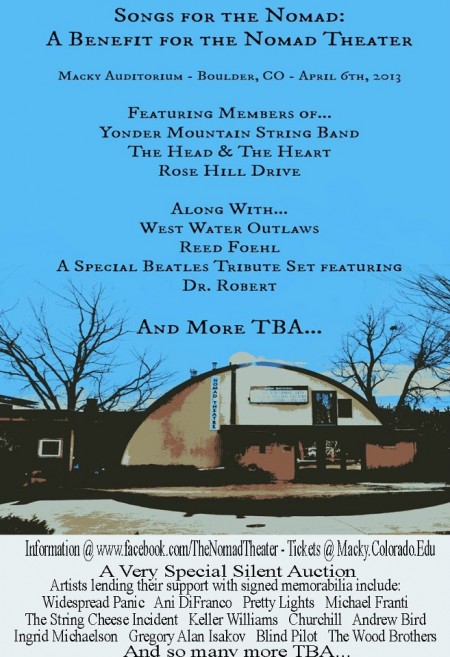 I CALL FIRST DIBS on the donation page, where you can kickstart the efforts and receive perks like meet & greets and limited edition show posters.
The efforts are helmed by my friend Travis Albright, the same guy that two years ago put together the Pearl Street Fest which brought a lineup that included Dr. Dog, Mason Jennings, The Lumineers, The Head and The Heart, Paper Bird, and Gregory Alan Isakov, among others. He knows good music, obv., and I am excited for how this venture can enrich our historic cultural vibe in town.
Go join me and throw down some bucks for a very good cause, and feel damn good to help save some Colorado cultural history.

Comments Off
No Comments
No comments yet.
Sorry, the comment form is closed at this time.