May 18, 2012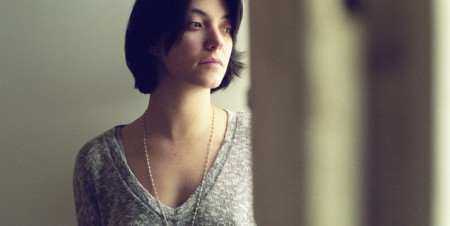 I first fell in love with Sharon Van Etten for her talent in phrasing lyrics in a perfectly excoriating way, and then stayed for the powerfully gorgeous music. The opening stanza of the first song of hers I heard, "A Crime," has a simple line directed at someone that she is still in love with "after all this time," and she delivers it perfectly scaldingly:
"…I'd rather let you touch my arm until you die
seduce me with your charms until I'm drunk on them
go home and drink in bed and never let myself be loved like that again"

Vibrating with a tight string of elegant sadness woven through, Sharon's latest album Tramp is punched through by her understated insight. She articulates those quiet, insistent anxieties that I also feel, with a very sharp edge of intelligence.
The album feels to me like Jacob wrestling the angel, but all painted up in summer-hot orange reds like Gauguin's version of the telling. The perspective is off-center and powerful in that obliqueness; the foist and the shove, the arching of the back to shrug off the weight is camouflaged in clear strong artistic lines, and the quiet grace of the ladies in profile in the foreground.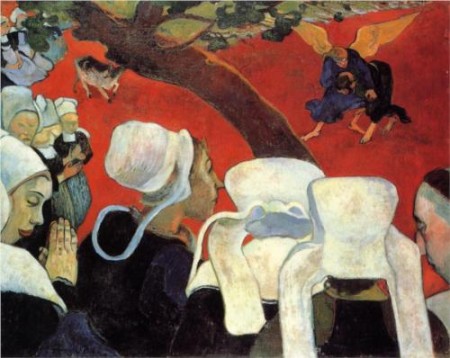 This is an album of heft and grief, but also of a hovering loveliness. You don't often get those two together because the one usually crushes the other. Sharon balances both.
"We Are Fine" is one of my favorites on the record; it's co-written with Aaron Dessner from The National, and features the swoopy-fantastic vibrato voice of Beirut's Zach Condon. Win-win-win.
We Are Fine – Sharon Van Etten

I have been listening to this loping album over and over since January, and it is so laden with terrific songs. "All I Can" is usually almost too potently eviscerating to play (yet, I do, and again). The song traces the taut sutures that bind together our (beautiful) wounds and our hopes for regeneration. We all make mistakes. Sharon says it like this, perfectly: "Wanting to love as new as I can / wanting to show I want my scars to help and heal." The ethereal, silvery-black "Joke or a Lie" feels like an answer to any song on The National's Boxer, like the female part of the conversation. "Kevin's" is drowsily exquisite. This whole album is.
Tramp is also probably one of my favorite records of 2012, and it's only May. Sharon alone is more than enough, but the record is also bursting almost unfairly with contributions from members of The National, Beirut, The Walkmen, Wye Oak, and Doveman.
Sharon is on tour now, coming through Colorado on my birthday. I'll take it. Cross your fingers for a Chapel Session with her; she'd be one of my all-time most-desired in that cathedral space.

3 comments
3 Comments
Sorry, the comment form is closed at this time.