February 29, 2012
I've sat down to write this post about fifteen times and never quite get the words out right, because this song by Cataldo (Seattle's Eric Anderson) is much more of an impressionistic short story than a song. Trying to write about my feelings for it is kind of like trying to tell someone about a dream, scratchy-voiced as the sun rises: it never comes out right.
It starts with only Eric's words alone in a room for the first several lines, echoing as he tells us a fleshed out, highly personal dream. Unfolding in a town where everything's been demolished, it is a story of seeing that person again, finding yourselves in that one house where you lived for the summer, and hesitantly playing a song together (you on an old piano, she on the violin that someone left). It's that dream where — oh, we're back in this room again? It's the deep desire for reconstitution that tries to address those loose frayed ends that our hearts want to knit back together again, so much. Even if only in dreams.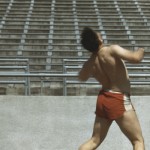 This is my favorite song on the new Cataldo album, Prison Boxing, which some of you helped Kickstart, and is the second Cataldo album that's been mixed by the intuitive Tucker Martine. It's now streaming in full over on Bandcamp, along with the past two releases.
Don't Lose That Feeling – Cataldo

I had a dream last night
everything that happened, had happened
The air cracked in my throat, a dry highway through stubble fields
all the businesses were torn down, flat lots on the left and right
i wasn't tired or thirsty
i felt almost home
Like probing a wound that we didn't know was still healing, it's a dreamworld that puts us back in those places and times we wish we could still inhabit with that person, in that way. It's one where everything, wonderfully, makes no sense but in that freedom there is finally peace: a version of trust (with no future, no insight, and no guarantee).
We didn't kiss (everything that happened had happened)
but we embraced
in a way I imagine we will someday
melting what years have hardened

I first listened to this song as I drove over the Continental Divide, through Colorado mountains in a verdant July. I texted Eric to thank him for writing this perfect song, with a perfect crescendo, and incisive truth that just gets me every single time. It keeps getting better, from where the piano comes in, to the achingly sweet violin piercing the song after "melting what years have hardened," to when the mandolin delicately sings, like the rebirth of hope.
Everything that happened has still happened.

Cataldo plays my house concert tonight. Won't you come?

[top image of time-lapse fireflies via]

3 comments
3 Comments »
Leave a comment