September 23, 2011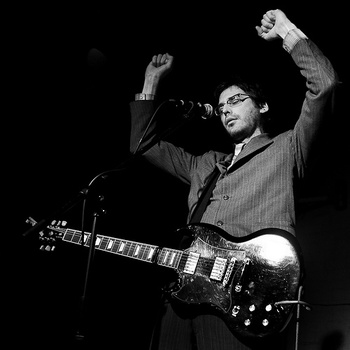 I've said before that I honestly think Eef Barzelay of Clem Snide is one of the most piercing, insightful, weirdly-perfect songwriters making music right now. I saw him live a few years ago in support of his 2009 release Hungry Bird, and his literacy and ability to emotionally incise caught me in an ambush. I commented that it was like an SAT study party, and we could invite John Darnielle and Colin Meloy and I would die happy. Around that time, this was one of my most-listened to songs, with its bluesy melody that somehow manages to feel effervescent through the weight. When Eef repeated the line over and over again – "We are just bracing for the impact by loosening our limbs…" something in my chest still tightens. "Every single one of us has a kitten up a tree."
Born A Man – Clem Snide
Eef also has this superhuman knack for covering songs in the best possible way, where you stop and hear something in a way you never did before. It's like when you are washing dishes at the kitchen sink and pause to look up out the window because you hear a thunder crash with the approaching storm, and suddenly your whole yard is bathed in this eerie greenish light. It's still your yard, the one you've sat in a hundred times, but all of a sudden it is foreign and strangely beautiful.
After releasing a startlingly seriously-pretty EP of Journey covers in June, this week Eef released a new cover songs album of selections suggested by fans. The most surprising has got to be his take on Nine Inch Nails' "The Becoming," and the purest the rendition of "In the Aeroplane Over The Sea." Take a listen:

And this remains my all-time favorite cover I think he could ever do – instead of Nico's halting German alienation, we get a warm hymn, laced with that gorgeous, sad, knowing cello:
I'll Be Your Mirror (Velvet Underground) – Clem Snide

SHOW ALERT: Eef plays this weekend in Armstrong Hall on the Colorado College campus, opening for Minnesota slowcore pioneers Low (Sunday night, 7pm). It is interesting to note that Armstrong Hall is so very close to Shove Chapel, home of the chapel sessions.

7 comments
7 Comments
Sorry, the comment form is closed at this time.