May 23, 2011
Between my falling so hard for James Blake's swooping, androgynous take on Joni Mitchell, and the way I'm absorbing the new Bon Iver record over and over, you'd think I was stuck in some sort of males-who-sing-falsetto rut.
While I have been enjoying the voices of men with a more masculine register as well, James Vincent McMorrow does nothing to break the string here. This haunting song floored me the first time I heard it (listen to that wonderful build! and break!) and made me, in fact, wish that I had a boat and some fog to sail it off into. Been too long.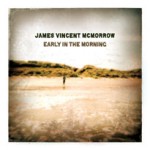 If I Had A Boat – James Vincent McMorrow


McMorrow is from Dublin, and I would totally set off into the Irish Sea with him. He just finished some tour dates with the Rural Alberta Advantage kids, in support of the worldwide release of his album Early In The Morning. That's an album he self-recorded in five months in a cottage by the coast, alone and playing all the instruments, and you can sample more sounds from it on his website.

4 comments
4 Comments
Sorry, the comment form is closed at this time.