February 16, 2011
From Thriller to the Britney Spears school hallway to OK Go's backyard moves, I am forever warped by the stupid joy in communal dance scenes and find myself constantly half-wishing that one would form around me, flashmob style.
Therefore I can't stop watching this video from unsigned Cincinnatti band Walk The Moon. The song itself is a hook-filled catchy little number, and the video is filmed in a maze-like cavernous building that looks like just the sort of place I'd love to explore. I do hope I'd end up in the basement, because that's where they go and bust out into an Eighties-tastic dance scene. Just try and watch without smiling.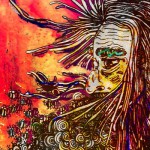 Recommended if you like The Killers and The Format and dance parties. I hope these guys are playing SXSW next month.
Anna Sun – Walk The Moon



[thanks Ben]

20 comments
20 Comments
Sorry, the comment form is closed at this time.