November 29, 2010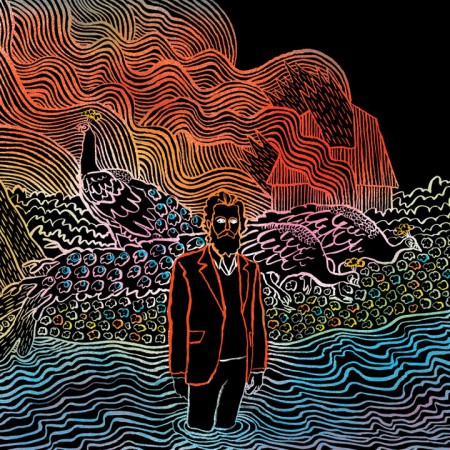 This song instilled a deep and intangible longing and sadness in me the first time I listened to it on Friday afternoon. With this, our first listen to a studio version of a song from the new Iron & Wine album, Kiss Each Other Clean (love that title), I was stopped in my tracks and held there, spinning. Back in one of those rare moments when I was able to write exactly, precisely what I feel when I listen to a song, there was the long ramble I wrote about "The Trapeze Swinger" last year, about how Sam Beam makes us feel like we are walking into the middle of a song that has always existed, tapping a primal vein of rhythm and harmonies that have been pulsing for eons. That's also how this song feels. Even with the flourishes of unexpected electronica, I would personally call this song a masterpiece, on par with The Trapeze Swinger. I am wrapped in to this world he is describing.
STREAM: Walking Far From Home – Iron & Wine (lyrics)
Audio clip: Adobe Flash Player (version 9 or above) is required to play this audio clip. Download the latest version here. You also need to have JavaScript enabled in your browser.

The first two stanzas feel like holding your breath – keening, suspended. My favorite part of the song comes forty seconds in, one breath after the marvelous lyric, "I saw sinners making music, and I dreamt of that sound – dreamt of that sound…" — the aural fuzz clears out and the "ooooh woaaaaah" vocal harmonies start cascading and tumbling over one another.
With that apocryphal air of epic poems that Sam Beam does so well, there's a push and give, back and forth on this song of the freedom of discovering new lands, but also a recognizance of the tethers that bind those inner parts of us back to the things we love. The opening line talks about walking somewhere "where the names were not burned along the wall," which to me speaks of shaky, wet, nascent freedom. But even with everything freshly created, "I was walking far from home but I carried your letters all the while" and "I found your face mingled in the crowd." We lose what we lose to keep what we can keep.
Also, how can you not see a marvelous parallel here with Dylan's "Hard Rain's A-Gonna Fall"? Like a sister song, fifty years later.
This is the first track on the EP/maxi-single of three new Iron & Wine songs that I picked up on Record Store Black Friday. It's the first track on the new album, along with "Half Moon" and eight other songs. Kiss Each Other Clean is out January 25th on Warner Brothers/4AD, Sam Beam's first album since leaving Sub Pop.

15 comments
15 Comments
Sorry, the comment form is closed at this time.