July 18, 2010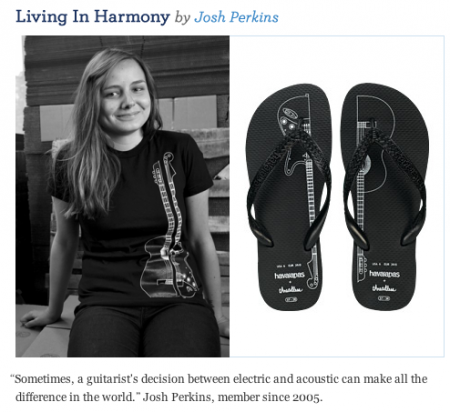 I was clicking around on Threadless a few weeks ago and noticed their cool new "Living in Harmony" dual guitar design (acoustic? electric? how about both). I tend to be lamely paralyzed by indecision when buying clothing online and didn't get it then, but serendipitously now the folks at Threadless have contacted me with a sweet little promo contest for you guys!
Fuel/Friends has a prize pack to give away containing the tshirt design by artist Josh Perkins, and matching Havaianas flip flops as well. You may or may not wear them together, depending on how completely dedicated to the idea of musical fashion you wish to appear.
TO WIN! I know this might cause you to groan, but you need to find a great joke to leave in the comments for me — one that makes you laugh out loud. The other night on a bicycle pubcrawl, I was talking about jokes and how hard it is to remember them when needed, and I realized I need some new fodder. Here's my latest favorite: How do you get 100 Canadians to get out of a swimming pool? You say, "Please get out of the swimming pool."

And because I like this song, both the original electric and this acoustic re-interpretation:

54 comments
54 Comments
Sorry, the comment form is closed at this time.