March 31, 2010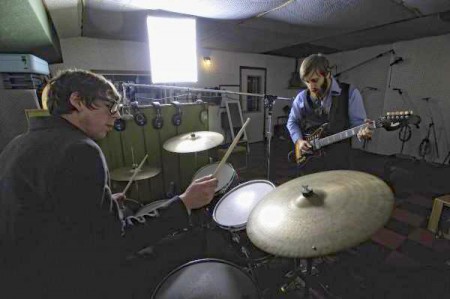 Akron, Ohio's finest The Black Keys are releasing their newest album Brothers (recorded at the legendary Muscle Shoals Sound Studio in Alabama) on May 18th.
Yesterday the Danger Mouse-produced "Tighten Up" made its way around the interwebs, and today I heard this shadowy, squawky, marvelous track for the first time. It certainly feels trademark heavy ("a Zeppelin-y blast of fuzzed-out guitar") while simultaneously loaded with melodic swagger – I even catch some R&B undertones. It stuck in my head immediately, and remains there happily.
STREAM: Next Girl – Black Keys
Audio clip: Adobe Flash Player (version 9 or above) is required to play this audio clip. Download the latest version here. You also need to have JavaScript enabled in your browser.
Woman straight up done him wrong.

You can download both tracks for free at the Black Keys site– if you buy a presale ticket to their upcoming summer tour:
THE BLACK KEYS TOUR DATES
*with Mondo Drag
†with Brian Olive
§with The Morning Benders
April 8 University of Iowa Memorial Iowa City, IA *
April 10 – Yuri's Night Bay Area 2010, San Francisco, CA
April 17 – Wanee Music Festival, Live Oak, FL
April 18 – Jackie Gleason Theater, Miami, FL †
April 19 – The House of Blues, Orlando, FL †
May 20 – Madison Square Garden, New York, NY
May 25 – Late Show with David Letterman, New York, NY
May 26 – Late Night with Jimmy Fallon, New York, NY
June 2 – The Depot, Salt Lake City, UT †
June 3 – The Fillmore, Denver, CO †
June 4 – The Crossroads, Kansas City, MO †
June 8 – First Ave, Minneapolis, MN †
June 9 – First Ave, Minneapolis, MN †
June 10 – The Pagaent, St. Louis, MO †
June 11 – Bonnaroo, Manchester, TN
July 27-28 – Central Park SummerStage New York, NY §

(thanks, jonny!)

22 comments
22 Comments
Sorry, the comment form is closed at this time.