March 11, 2010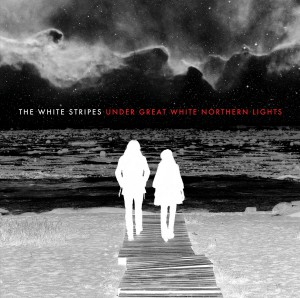 CORRECTION: Fuel/Friends gets to give away the White Stripes' new DVD of Under Great White Northern Lights and the companion live CD. My deep apologies for the confusion between me and the PR people (but hey, it's still a cool prize, for free).
Under Great White Northern Lights was filmed to capture moments from Jack & Meg's summer 2007 tour across Canada, from the big city venues to the smalltown bowling alleys. This tour (in support of Icky Thump) represented their last live performances for a good two years, until they recently resurfaced on Conan.

TO WIN: Leave me a comment telling me about either your favorite White Stripes concert moment or your favorite White Stripes song, and why. I will pick one winner before I board a plane to SXSW next Wednesday.

And speaking of White Stripes and SXSW in the same breath, how awesome does this look? I'll be there, and try to not wear my Third Man Records shirt to the store that day. Last year at SXSW, in another one of those surreal moments that thankfully seem to pepper my life lately, I had tapas with the director of this film, Emmett Malloy, and we chatted about the making of this documentary. It feels full circle that I'll probably get to finally see a screening of it at SXSW this year. Wahoo!

60 comments
60 Comments
Sorry, the comment form is closed at this time.