January 10, 2010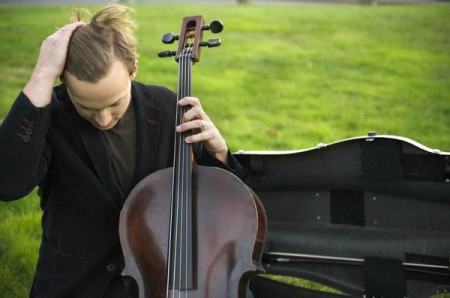 Speaking of Jim James (or Yim Yames, as he seems to be going by fulltime these days), the My Morning Jacket frontman is producing the newest record from classically-trained cellist Ben Sollee and hushed folkie Daniel Martin Moore. The collaboration will be the follow-up to Sollee's Learning to Bend and Moore's pensive Sub Pop debut Stray Age (both in 2008).
Reinforcing my love of Kentucky lately, all these fellas know each other from the Louisville music scene and recorded this album early last year in their home state. On the resulting album, the songs are written and performed by Sollee and Moore, produced by and featuring Yim Yames. Sounds like an excellent idea to me.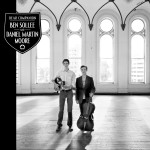 Dear Companion is out on Sub Pop on February 16th, with a portion of the proceeds benefitting Appalachian Voices, an organization devoted to ending mountaintop removal coal mining in central Appalachia.
And if I wounded you, I'm sorry
I had good intentions
If I wounded you, I'm sorry — it happens all the time
Something, Somewhere, Sometime – Ben Sollee & Daniel Martin Moore
You may also recall that the James/Sollee pair already recorded a fantastic, political folk duet "Only A Song" in 2008, full of hope and optimism, released on Election Day. And although I missed Sollee's recent swing through Colorado, I loved seeing him last winter with Abigail Washburn and her Appalachian-Chinese folk music blend.

BONUS: I also so adore this one. His voice is distinctive, and almost haunting here.
Panning for Gold (Computer vs. Banjo remix) – Ben Sollee

BEN SOLLEE "PEDALING AGAINST POVERTY" TOUR
Jan 20 – Iron Horse Music Hall, Northhampton, MA *
Jan 21 – Ifinity Hall, Norfolk, CT *
Jan 22 – Fairfield Theater, Fairfield, CT *
Jan 24 – Maxwell's, Hoboken, NJ *
Jan 26 – One Longfellow Square, Portland, ME *
Jan 27 – Club Passim, Cambridge, MA *
Jan 29 – IOTA, Arlington, VA *
Jan 30 – Arden Concert Guild, Arden, DE *
Jan 31 – The Southern, Charlottesville, VA *
Feb 2 – Rex Theatre, Pittsburgh, PA #
Feb 3 – Wealthy Theatre, Grand Rapids, MI #
Feb 4 – Callahan's, Auburn Hills, MI #
Feb 5 – The Livery, Benton Harbor, MI #
Feb 6 – Kent Stage, Kent, OH #
*with Carrie Rodriguez
# with Erin McKeown and Carrie Rodriguez

5 comments
5 Comments
Sorry, the comment form is closed at this time.