December 2, 2009
Next Thursday morning I'm boarding a plane bound for Nashville. That sounds like the first lyric of a good song.
I'll be visiting one of my favorite people in the world, and together we are going to cram in a good deal of musical fun into four days. On Friday night we're heading to the Exit/In (this show happened there, among others, which makes it some sort of hallowed ground) to see the newly-birthed supergroup Works Progress Administration.
This civic-mindedly named band is an "expandable collective" formed this summer, consisting of Glen Phillips (of my terrifically-beloved Toad The Wet Sprocket), Sean and Sara Watkins from Nickel Creek, Benmont Tench from The Heartbreakers, Pete Thomas and Davey Faragher (Elvis Costello and the Imposters), Luke Bulla (Lyle Lovett's fiddler), and the pedal steel talents of Greg Leisz. In addition to tapping some of the coolest icons and typefaces of the last century, their independently-released album sweetly blends bluegrass and pop and I cannot wait to hear it live.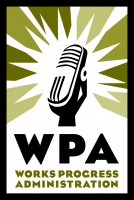 You can listen to their entire debut album above, and purchase it here (they're doing it all by themselves, with no label). The vocal duties shift between four band members, and my favorites are still the ones where Glen sings (lead track "Always Have My Love" is an instant classic, and "Rise Up" is an introspective piano-based gem that feels like twilight). But the richness of other tracks are growing on me too — like Sara Watkins' take on the Ray Davies/Pretenders "I Go To Sleep." It's clear that these folks love playing together.
My innards still get happy every time I hear Glen sing, not even kidding. I'll be interviewing him on Friday afternoon in Nashville, and I will try not to knock him over with all the pent-up enthusiasm of fifteen+ years of fandom. Cross fingers.

WORKS PROGRESS ADMINISTRATION / WINTER TOUR
Dec 3 – High Noon Saloon, Madison, Wisconsin
Dec 4 – Ladies Literary Club, Grand Rapids, Michigan
Dec 5 – The Ark, Ann Arbor, Michigan
Dec 6 – Old Town School Of Folk Music, Chicago, Illinois
Dec 7 – The Basement, Columbus, Ohio
Dec 9 – Southgate House, Newport, Kentucky
Dec 10 – Birdy's, Indianapolis, Indiana
Dec 11 – Exit/In, Nashville, Tennessee
Dec 12 – Phoenix Hill Tavern, Louisville, Kentucky
Dec 13 – The Kent Stage, Kent, Ohio
Jan 6 – Sellersville Theater 1894, Sellersville, Pennsylvania
Jan 7 – Infinity Hall, Norfolk, Connecticut
Jan 8 – Arden Gild Hall, Arden, Delaware
Jan 9 – City Winery, New York, New York
Jan 10 – Stone Mountain Arts Center, Brownfield, Maine
Feb 21 – Cayamo Cruise, Miami, Florida
Mar 27 – Lobero Theatre, Santa Barbara, California
May 1 & 2 – Merle Watson Memorial Festival, Wilkesboro, North Carolina

I am also taking suggestions for things we can entertain ourselves with in Nashville. You might not know this about me but I can belt an absolutely absurd number of country songs with great passion and without skipping a word. I think there might be some fun music-related things to do in Nashville…

19 comments
19 Comments
Sorry, the comment form is closed at this time.