November 10, 2009
The independent music documentary "D Tour" (Dialysis Tour) is about Rogue Wave drummer Pat Spurgeon's struggle with a failing kidney, a search for a donor, while still trying to still pursue the music that is vital to his contentment. I watched it one warm evening this summer and found it both inspiring and challenging — punctuated throughout with terrific musical moments.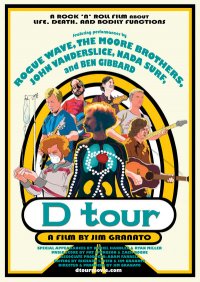 In addition to being a compelling look at the organ donation system in the US today, the pitfalls that can snare underinsured musicians, and some of the difficulties and nastiness of life, the film prominently features a lot of excellent music footage from that benefit show at SF's Independent back in 2006 that I so wanted to go to. it speaks compellingly to the healing power of music. At that delicious show, Rogue Wave was joined on stage by friends like Ben Gibbard of Death Cab, Matthew Caws of Nada Surf, and John Vanderslice.
UPDATE: The entire movie is now streaming on PBS!

A lot of you guys donated to the fund when I bribed you wrote about it back then, so I hope you'll take some time to watch the documentary when it debuts tonight on PBS' Independent Lens series, or order the film on DVD for $20. The film has won accolades at several festivals, including the Golden Gate Award at the San Francisco International Film Festival, and the most recent Rogue Wave album Asleep At Heaven's Gate (2007) is still on heavy rotation around these parts. I am looking forward to their new one in early Spring 2010.
Here's the lilting song that plays over the credits, a brand new one from Rogue Wave. To download an mp3 version, please go over to their site and sign up!

Positive Hero Worship – Rogue Wave
Audio clip: Adobe Flash Player (version 9 or above) is required to play this audio clip. Download the latest version here. You also need to have JavaScript enabled in your browser.

4 comments
4 Comments
Sorry, the comment form is closed at this time.