September 24, 2006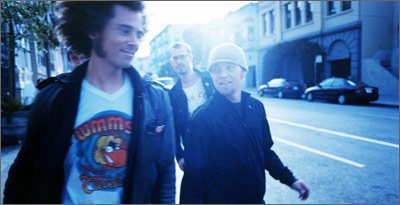 I wrote a few days ago about the benefit concert this Saturday in San Francisco for Rogue Wave drummer Pat Spurgeon (on the left, above) — for which tickets are still available. I sent the notice around to a few friends on the blogs to see if anyone else wanted to write up a little something about this money being raised for a good cause (his only kidney failed, consequent medical expenses mounting).
Several generous blogger friends have cross-posted this information (thanks!), and superstar Jennings over at rbally.net just did something *very* cool. He is auctioning his like-new 4gb iPod Nano (plus fancy leather case) on eBay and donating all the proceeds to the Pat Spurgeon fund.
But wait, there's more.
He'll also load up the iPod with a custom blend of music (you tell him what you like, he'll hook you up with his own patented blend of concert tracks, rare stuff, etc.) before he sends it on its merry way to you, the new owner.
Now THAT is a pretty sweet side benefit that the folks at the Apple Store will ne'er be able to hold a candle to.
I cannot top Jennings (the only "extra" iPod 'round these parts makes a sad face when you turn it on. I'm thinking that can't be good), but I can offer a little side perk for those of you who would donate something to this fund.
I've got a huge stack of some excellent recent releases, and somehow I have ended up with double copies of a lot of really great CDs, either through a promo copy being sent to me of an album I already bought, or occasionally a record company accidentally sending me two of the same CD.
If you donate $10 or more to the Rogue Wave/Pat Spurgeon Kidney Transplant Fund, and forward me some sort of confirmation, I will email you the list and let you pick one from my stash. There's some goodies here, fine albums that I have mentioned or reviewed recently. Perhaps you can find something new.
So, why do I care? Not to sound sappy, but musicians give up a certain modicum of security when they choose to follow their passion and gift us all with the tunes they create. They don't (generally) have the 401k, the corner office, the dental insurance, and the basic medical benefits that a regular job would offer. So when they are in need, if there is any way that we the listeners can somehow help, I am all for it.
One step closer towards calling it even for what music gives to me.
"Everyday" (Buddy Holly cover) – Rogue Wave
"10:1" – Rogue Wave
(listen to Pat crash and bash on this excellent track from 2005′s Descended Like Vultures)

5 comments
5 Comments
Sorry, the comment form is closed at this time.