September 18, 2009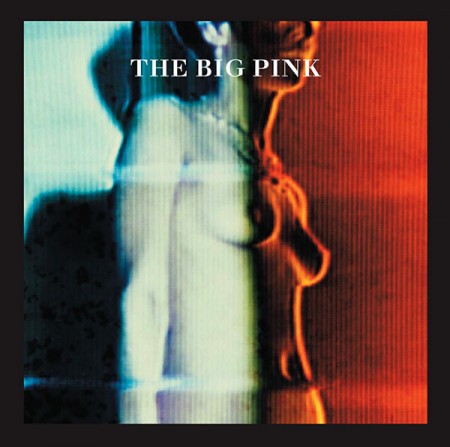 This is definitely one of my most-listened-to songs of the moment, all its crunchy dirty layers and blissed-out beats. The Big Pink first ricocheted sparklingly off my eardrums back in July via a mix CD of goodness from the California coast, with their shimmering, spacey, massive music that I am still not tired of aurally deconstructing. My bangs are getting really long, and music like this makes me want to grow them even longer and swoopy so they can hang over one eye and I can start wearing eyeliner more often, and borrow your ratty Smiths t-shirt from 1986.
Even though the story goes that they are named after The Band's first album, The Big Pink is neck-and-neck in the running with Girl Talk for "Band Most Likely To Be Mistaken For A Slumber Party Game For 11-Year-Olds." This duo from London ("two old friends in love with digital hardcore and the narcotic effects of blissed out electronic music") are having a banner year. They were chosen by NME as a best new act in February, and have just been tapped to support Muse and play with the Pixies in the UK. Their album A Brief History Of Love is out this week on the superb 4AD label (Mountain Goats, The National, Department of Eagles). You can stream the full album via Spinner.
This song has been posted on everyone's music blog it seems, including that girl from the art gallery, your aunt, that weird seventeen year-old kid down the street, and probably your boss — with good reason. I adore it. Not tired of it yet, not even close.
"As soon as I love her, it's been too long," as they say.
Dominoes – The Big Pink


(that video reminds me of the awesomeness of this one)

BIG PINK ON TOUR (UK/Europe dates here)
11-17 San Francisco, CA – Great American Music Hall
11-18 Los Angeles, CA – El Rey
11-20 Costa Mesa, CA – Detroit Bar
11-21 San Diego, CA – Casbah
11-23 Denver, CO – Larimer Lounge
11-25 Minneapolis, MN – 7th St. Entry
11-27 Chicago, IL – Empty Bottle
11-28 Detroit, MI – Magic Stick
11-29 Toronto, Ontario – Lee's Palace
11-30 Montreal, Quebec – La Sala Rossa
12-01 Boston, MA – Paradise
12-03 New York, NY – Bowery Ballroom
12-04 Brooklyn, NY – Music Hall Of Williamsburg
12-05 Washington, DC – Black Cat
12-06 Philadelphia, PA – Johnny Brendas

1 comment
1 Comment »
Leave a comment