September 11, 2009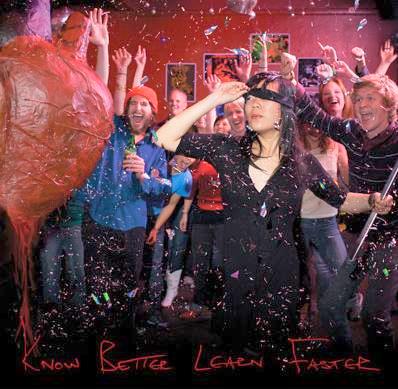 Two things that feel exceedingly good on a craaazy-hectic Friday afternoon at work are: 1) learning about music blogs run by your friends that you never even knew about — and finding that they duly kick ass, then 2) finding a brand new song from an artist you love on there today.
Thao Nguyen & The Get Down Stay Down put out one of my favorite albums of the last year with We Brave Bee Stings And All — fiesty, thoughtful, aurally-pleasing rock. This first sample from her new album Know Better, Learn Faster is a malleable exercise in introspection (with some of those strings, maybe from Portland), honey-coated by her rich alto voice, spiking into a theremin-laced whirlwind of sound by the end that reminds me of something that DeVotchKa would have dreamed up.
Know Better, Learn Faster – Thao Nguyen
When I sat down to interview her in May, Thao wowed me with one of those wonderfully thoughtful conversations about music that makes me truly glad to get to do what I do on this site. We talked about this upcoming album, of which she said:
The record is primarily a response to the end of a relationship, so a lot of it is pretty reactionary. It's trying to be introspective, but there's always got to be a little "fuck you" in there – or, sometimes there's a lot. I am excited about the emotional content of it and how we tried to convey our live performance and that level of energy that we have now.

Lyrically I think the new album is a lot more straightforward than We Brave, because on that album I just danced around a lot of things, it wasn't a total confrontation. But this new record was very intense and emotional to write and it all came out very quickly, in a month or so. I think the album is a lot more intense and energetic and straightforward.

On this record, we've got a female choir, a lot more organ, more horns, a lot of trumpet, slide guitar. There's one song that's only handclaps and stomping, it's a very short song, and we're calling it "The Clap." That's the title – and I'm not changing it.
She also says of the title, "The album is named 'Know Better Learn Faster' because you can't. By the time you realize you should, it's too late. And I enjoy the predicament and the totally devastating, unfunny humor of that." It's out October 13th on Kill Rock Stars.
After hearing this sample of her new stuff, I'm even more excited to see her this weekend at Monolith. Speaking of which…is it almost quitting time yet? After the day I've had putting out fires all over the globe, I srsly need a drink.

3 comments
3 Comments
Sorry, the comment form is closed at this time.