June 4, 2009
Back in 2005, a film festival came to San Jose where I grew up and was living still. Five minutes down the road from the college where I was working, Amazing Grace screened in a theater I'd visited dozens of times. This Jeff Buckley documentary is lauded by fans who have seen it as a gorgeous, heartfelt work about Jeff Buckley and his life.
I remember that as a particularly distracted Spring, and I completely missed the screening — and have spent the next four years compulsively checking the website every couple of months to see when I can watch it on DVD.
The day is finally here.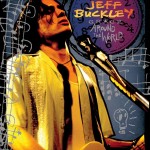 In honor of the 15th anniversary of the release of Jeff's masterpiece album Grace, earlier this week the Grace Around the World CD/DVD of previously unreleased live performances hit the shelves. The deluxe edition also includes the Amazing Grace documentary, available for the first time.
The Grace Around The World performances were culled together and produced by Mary Guibert, Jeff's mom. They are gorgeous renditions of Jeff's songs taken mostly from his TV performances all over Europe and Asia from 1994-1995. It also comes with a CD of the audio from these performances. There are a couple of renditions of all the songs on Grace, and also a live version of "Vancouver," which didn't make it on the album but surfaced on Sketches For My Sweetheart The Drunk.
Rolling Stone has been doing a series of podcasts on this release and the anniversary. This episode lets you hear some of the audio from Grace Around The World, and features commentary from Duncan Sheik, who had worked with Jeff, and wrote the tribute song "A Body Goes Down" for him.
Jeff Buckley Grace Around The World podcast



FUEL/FRIENDS CONTEST: One reader gets the limited-edition deluxe Grace Around The World prize pack which includes –
1) The Grace Around The World DVD featuring previously unreleased TV performances from U.S., UK, Germany, Japan and France
2) Grace Around The World CD featuring audio versions of all the tracks on the DVD, plus two additional previously unreleased tracks
3) A pretty sweet t-shirt.
If you'd like to win, leave me a comment, please, and let's talk about something you love in Jeff Buckley's music or live performance. Make me smile this week (or make me cry, or give me shivers, something good). Talk about a lyric, a melody, a song, a performance, a quote, a laugh. For me, it's still absolutely the ebullient joy in this laugh that is my favorite moment ever of Jeff's. What's yours?
###
LISTEN TO A FEW OF THE LIVE TRACKS FROM
GRACE AROUND THE WORLD:

[top photo credit Merri Cyr]

47 comments
47 Comments
Sorry, the comment form is closed at this time.