May 31, 2009
Fuel/Friends' good friend Dainon from Utah went to Sasquatch Festival in Washington with my neighbor from across the street in Colorado. Go figure. I stayed home — but he reflects on his weekend well-spent in a special guest post.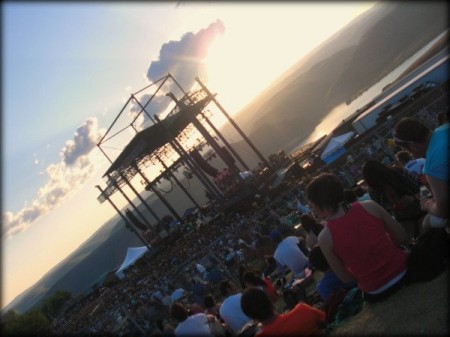 Riffing on Sasquatch
by Dainon Moody
There's a difference between the casual concertgoer and someone who attends a music festival. Well, several, in fact. Here's a start. One's looking for something to bump and grind to on a Friday night. The other has to plan for cheap airline tickets, a steady diet of free Beef Jerky samples and dried cherries for three days, carpooling in the back seat of a cramped Jetta for five hours in a row, overzealous country cops, 82 degree sunshine without the shade and, on top of that big pile o' goo, which bands to see and which to leave far behind because, let's face it, you just can't see them all, no matter how hard you try to manage it.
I'll go ahead and allow you to decide which is which.
See, the festivalgoer is not unlike a bird watcher in his or her dedication. I mean no offense to those who watch birds. I know little of the sport. I can chalk up my entire bird watching experience to seeing Blue Jays run smack into my grandma's big Missouri sliding glass door time after time after mostly hilarious time. But, stay with me on this. There's a real commitment involved in festivals. This is the hobby we have chosen. And there are parallels to consider. We may not be able to manage very believable whippoorwill birdcalls, but we'll scream our lungs raw in appreciation when the guitar solo hits our ears right. We may not use binoculars to seek out whether or not, say, there are black speckles on a robin's breast, but we'll bone up on reviews and listen to your band's songs weeks ahead of time in hopes of identifying one in your band's onslaught of the hopefully familiar.
There's more. We'll take a barrage of photos of you as you perform, no matter how far away we are, no matter how dark it is; we never give up hope for the one blessed unblurred shot. And, if we're really lucky, we'll try to take them with us included and we'll act as casual as we can manage standing next to you (with varying results, sure). We'll even go about attempting to grab video of the songs in your catalog that we really, really like, avoiding the sing-a-longers standing nearby and pretending as much as we can that we don't have shaky hands in the process. It all adds up to dedication. Let's face it—in another line of work, we'd make for excellent peeping toms. As it stands, we're simply superfans. We might even take a bullet for you if you catch us on the right day.
The ironic part of this is that, while we do have to commit to a lot and plan like crazy, we never have to commit to a band for very long once we get there. This definitely speaks to the single kids, as well as those adults who can't make a decision to save our lives. If you're not as good live as you are on CD (I'm looking at you, Passion Pit), we'll know in a song or two. We don't need to stick with you an hour. We can wander off to a new discovery or to a more tested-and-true kinda musicality. TV On The Radio and Fleet Foxes and Bon Iver win our devotion, easy. Santigold in the sunshine? The Gaslight Anthem doing a Pearl Jam cover, from the Singles soundtrack no less? We'll stick around for gems like that. Nine Inch Nails? Eh, not so much. Hey, it is what it is.
Sadly, not everyone goes for the music at a festival. About half of the guesstimated 75,000 attendees at Sasquatch were using the music as a soundtrack to their $9 beer dranking and hours-long naps and apple bonging (it's exactly what you think it is). Sometimes they were ingenious enough to sneak alcohol into the festival inside a flask shaped like binoculars or a hollowed-out loaf of bread even. Some just wanted to draw magic marker tats on one another. And still others were just around to see exactly how many sloppy, slobbery kisses and such they could get away with in the midst of wide-eyed onlookers (and it was a whole, whole lot, it really was). The rest of us? We were the bird watchers. We were the grizzled prospectors. We were sifting through the gravel, picking diamonds out of the rough stuff. We sought and found.
I can only speak for these eyes and these ears. For the curious, here's a smattering of my findings.
_________________________
Dent May & His Magnificent Ukulele out of Mississippi? Both a surprise and a revelation. He was like Jens Lekman with an even better sense of humor. Maybe Elvis Costello with more of the boogie woogie infused into his tunes? The glasses and slicked hair cast him as a total geek of a guy, but he found my smiles. I mean, he had background singers manipulating the female doowop sound! He had a ukulele and he knew how to use it! One song was so good, you just wanted to hear what would come next. And then the next after that. It was easy to buy that album. It was one of the easiest sells I can recall.
The Decemberists? Need to buy the new album, pronto. Passion Pit? Need to listen to the album instead of the concert.
M. Ward was solid as a rock, he was. He's a real pro at what it is he does. He knew he only had an hour to give us a show, so he took just seconds between songs, barreling from one to another so quickly, his set was just a cough away from being one long, beautiful melody. It pains me to write it, but Zooey wasn't much needed.
It was good to fight for the spot that allowed us to see Bon Iver from just 20 feet away. It's just unreal how good Justin Vernon sounds live, but he does. He just does. Whether he's doing songs from his first album, the new EP or even throwing in a Kathleen Edwards cover to appease the pot smokers, he's on top of his game. I think he knows it. There were sound snafus and it didn't much matter in the end. He saw past them and showed his stripes. Hearing and watching his little crew do "Creature Fear" with enough ferocity to break his strings at the end of it all? That sealed the deal for me. That set opened me wide and made me a bigger fan than I already was.
VIDEO: Bon Iver at Sasquatch, w/ Shara Worden of My Brightest Diamond – "Flume"

Heartless Bastards? I just love you. The Dutchess & The Duke? Thank you so, so much. Grizzly Bear? You done did what I thought you'd do. That band needs a bigger hug from the public, sure, and maybe it'll happen with the new album. But you can get lost inside their harmonies pretty easily. It's exactly what the band wants, too, so just let it happen.
There were more, but that ought to do, right? I'm running a bit long as it stands.
Biggest regret? Missing the Builders & The Butchers out of Portland. Scamper away and take them in because you'll hear something just fantastic in them. Believe it. And The School of Seven Bells! Why'd you have to play while The Avett Brothers were? You intrigue me, but the Avetts stole my heart out from under me. I hope they make and sing their solid brand of country songs for the rest of the years I am alive. Then—and only then—will it be enough.
VIDEO: Avett Brothers @ Sasquatch – "Murder In The City"

You can only take so much festival. Sometimes two-and-a-half days' worth is your breaking point. And you know it means missing Girl Talk and Explosions in the Sky and Erykah Badu but, you know what? You put your arm around Annie from St. Vincent. You left with an autographed copy of Grizzly Bear's latest. You saw the lead singer of Monotonix perform so hard, he earned a flesh wound for his art … and, despite the blood coming out of his head, kept on going. You heard enough songs and saw enough good, solid bands to last you, what, a good month or two? Perhaps.
VIDEO: Monotonix drumming in the Sasquatch crowd

The mind wants more, maybe, and the miser in you wants to get the most out of what was a gifted ticket anyway (it's the principle of the thing!), but there's a time to retreat to your own bed, stop loving on the perfect 80 degree sunshine and give Sasquatch a kiss on the mouth goodbye. It was good, so crazy good, but goodbyes are inevitable. You can only take so much.
Still. Thanks, Sasquatch. I'll remember you well.

8 comments
8 Comments »
Leave a comment