May 12, 2009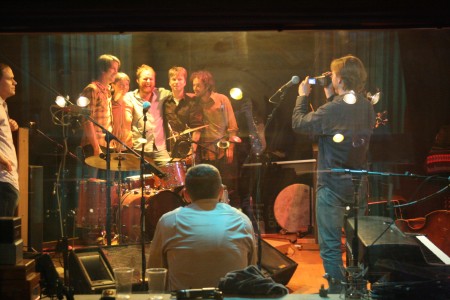 When I was in Chicago a few weeks ago, I was able to combine business and pleasure into a few exceedingly lovely musical moments.
In addition to catching the sold-out Blind Pilot show at Schuba's, I was also invited to come see the band record an intimate session for the superb HearYa Sessions. As we all shared a bit of Maker's Mark in the late afternoon (and what better time for it, I might ask) Blind Pilot spun some pretty striking renditions of tunes from their debut album Three Rounds and a Sound, one of my recent favorites.
The Story I Heard (live on HearYa) – Blind Pilot

Get the rest of the session for free here.

Also, the HearYa guys shot fancy multiple-camera video of this same song which you can watch on their site but (like a tourist) I love this version because it's mine.

Blind Pilot is on tour in the coming months with The Hold Steady, Counting Crows, Akron/Family, The Decemberists, and Andrew Bird, as well as playing Lollapalooza and Outside Lands in SF. Whew.

5 comments
5 Comments
Sorry, the comment form is closed at this time.