April 19, 2009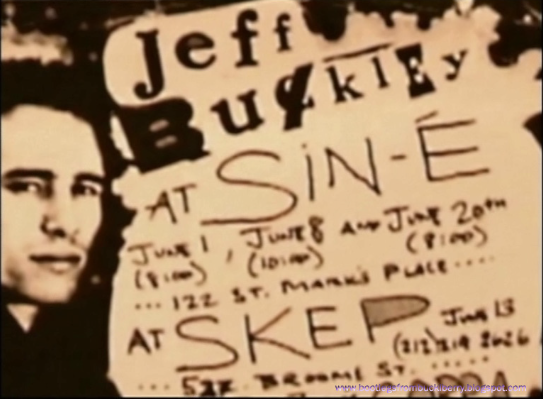 In the early Nineties, some musician/taper was playing New York's Sin-é club at the same time as a young rising star named Jeff Buckley. Unnamed fella was taping Buckley's Monday night sets, and has recently put together a compilation of these live tracks, largely covers. Thanks to a tip from a reader in Brooklyn named Adam, I have been listening to these chill-inducing recordings all morning.
People's Parties (Joni Mitchell) – Jeff Buckley
People's Parties (original) – Joni Mitchell

Check the Love Live! Bootlegs From Bucklberry blog for this and other tracks, including:
Two versions of "Hallelujah" (Cohen), "Funk 49″ (James Gang), "The Way Young Lovers Do" and "Sweet Thing" (Van Morrison), "In A Different Place" (Ride), "May The Circle Be Unbroken" (traditional gospel), "Twelfth Of Never" (Johnny Mathis?), "Calling You" (Bob Telson), "Strange Fruit" (Billie Holiday), "Julia" (The Beatles), "Lost Highway" (Hank Williams), "Dink's Song" (traditional), "I Shall Be Released", "If You See Her, Say Hello" and "Mama You've Been On My Mind" (Dylan).
I haven't even heard many of these covers. What a gift.

7 comments
7 Comments
Sorry, the comment form is closed at this time.