July 10, 2006
Oh, I could talk about the World Cup all day today, but you know already from the last post.
So instead I will chat about the cinema. Last weekend I saw The Break-Up with my sister (I know, I KNOW). I told her that she is the only one I would see it with and enjoy the experience. The movie itself was an odd combination of really FUNNY moments (mostly due to Vince Vaughn), melded with supremely nasty fighting that made me feel a bit uncomfortable and sad because they were being so mean to each other. I did, however, think I was going to die of laughter during this scene: "Come, come GARY on the kickdrum! That's GARY! On the kickdrum. Come, come on the kickdrum!" Just watching it again gives me immeasurable joy.
"Slip Away" (Cars cover)
Sparkle*Jets UK
This collection of smaller indie bands covering Cars songs sought me out on MySpace, and I am glad they did! The disc, entitled Substitution Mass Confusion, slipped by me when it was released in 2004 (Not Lame Records). There's a splendid variety of bands: Jon Auer, Butch Walker, Owsley, The Bravery, Gigolo Aunts and more – all covering those great Cars songs that you didn't realize you knew until you start singing along.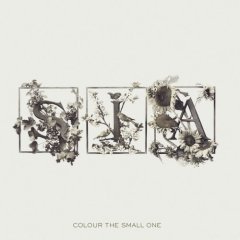 "Sunday"
Sia
This cued up at the college radio station when I was visiting the other week, prompting me to ask "Do you guys play Beatles songs here?" One listen and I think you will see why – a winning combinations of rich woodwinds and a swanky female voice. From Sia's lovely Colour The Small One album (2006 in the US, Astralwerks). She is currently on tour with Zero 7 in Europe.
"Crash and Burn"
Gran Bel Fisher
I wasn't sure about this song when it first started, it's got sort of an early-'90s brit-pop/mature folk sound to the vocals and a rhythmic piano backing, but it blends into a supreme and uplifting pop song. Gran Bel Fisher has recently been opening some shows for Brandi Carlile, who you know I love, and I have heard he is magnetic live. From his mellifluous album Full Moon Cigarette; give it a listen.
"Brimful of Asha" (Cornershop)
Fatboy Slim
This song instantly transports me to my senior year of high school, with its catchy riff and Indian feel – one I had largely forgotten about. This remix from Brighton's favorite son Fatboy Slim is from his new greatest hits collection, Why Try Harder (Astralwerks, June 2006). It's nothing that will change the world, but it's fun and great for a summer playlist.
"World Surrounded"
Sam Powers
Yep, I was apparently smoking crack when I posted earlier what I said was a Mic Harrison track. Because it SO wasn't. I mislabeled. Let's listen to "World Surrounded" by Sam Powers – that's what I posted earlier today under a different title. So fix your labels if you already snagged it.
Three members of Superdrag — Sam Powers, John Davis, and Mic Harrison have all done the solo thing, and this lovely fuzzy pop song demo from Powers has the rough hallmarks of the unique, classy sound that made Superdrag great. I agree with this little blurb that says "the solo echoes what it might sound like if Jimmy Page was in The Replacements." Sam played bass on Last Call For Vitriol, however, since this demo was posted in 2004, I cannot find ANYTHING online about what album this ended up on (hence no corresponding picture), or even Google "Sam Powers" without getting an Australian magician. Anyone know anything about what the actual Sam Powers in question has been up to?
This is one of the many ace related songs you can find in the downloads section of the Superdrag site. There's also a good variety on eMusic. Superdrag's a band I've been revisiting lately, and one that always makes my friends ask, "Hey, who IS that?"

6 comments
6 Comments
Sorry, the comment form is closed at this time.