September 10, 2010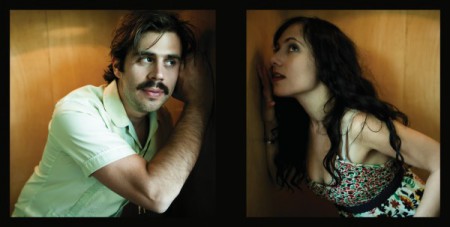 I spent last night listening to a new song cycle from Brooklyn's Elizabeth & The Catapult, commissioned by NPR and inspired by the challenging, incandescent Book of Longing by Leonard Cohen.
Fittingly, I first heard Elizabeth & The Catapult when I added their rousing cover of Cohen's "Everybody Knows" to my Stomp Clap Mix at the beginning of the summer. This girl can compose and sing with an immensely strong voice, and loves whistles and claps and stomps as much as I do, so anytime she wants to also be inspired by the genius of Cohen and his words, I can get down with that.
These two songs are fantastic, and each so different. The first one I really loved is called "Go Away My Love" (at about the 38 minute mark), and sounds like it rises up from some riverside bank in the deep South, all feet stomping and hands clapping. The title track "The Other Side of Zero" is right after that one, and reminds me some of the harmonies of Gillian Welch and David Rawlings.

The full album The Other Side of Zero is out on Verve Forecast October 26th, and you can hear selections from last year's Taller Children on Daytrotter.

There's also a page of full "liner notes" for the song cycle, dotted with Cohen's poems and drawings here. I bought Cohen's Book of Longing last year on a particularly gratifying afternoon browsing trip lost amidst the stacks of Denver's Tattered Cover bookstore. So many of the poems in there have resonated with me this last year, including this, one of my favorites in the collection (or, one of my few G-rated favorites in the largely NC-17 collection, I should say):
You'd Sing Too
You'd sing too
if you found yourself
in a place like this
You wouldn't worry about
whether you were as good
as Ray Charles or Edith Piaf
You'd sing
You'd sing
not for yourself
but to make a self
out of the old food
rotting in the astral bowel
and the loveless thud
of your own breathing
You'd become a singer
faster than it takes
to hate a rival's charm
and you'd sing, darling
you'd sing too